Fish Report for 7-31-2020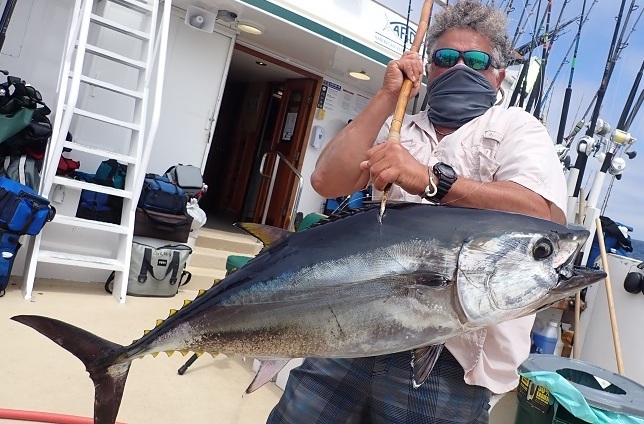 Mid Day Bluefin
7-31-2020
Royal Polaris Crew

Hello everyone;
I'm back after spending time in Alaska, but we're not hear to talk about Alaska. Lets talk about Bluefin tuna fishing on the R/p.
We departed on our 3 day open at 10:00 hours. We stopped at the bait barge, and we loaded up on beautiful sardines. Once we cleared the point Roy gave a safety seminar and his fishing seminar. Our fishing day would begin rite around 14:00 hours.
We had an excellent afternoon on Bluefin tuna. Most of the Bluefin were in the 25 to 40 pound range. Bluefin tuna was not the only fish caught today we had some Yellowfin show up in our fish count for today.
Mother nature was not nice to us today, with a stiff breeze out of the north, and a small sea to go with our cold afternoon.
Most anglers got bit on flyline sardine's. We will start in this area tomorrow, and with that note, I say good luck and good fishing, Team R/p