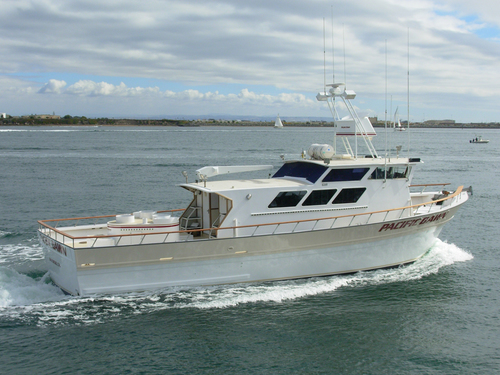 Pacific Dawn
Owner:
Mike Loust
Captains:
Mike Loust
Mailing Address:

Pacific Dawn Sportfishing
2838 Garrison Street
San Diego, CA 92106
Boat Website:
www.pacificdawn.com/
Captain Pat Cavanaugh
Full Galley Service
60ft. x 19ft.
Sleeps 24

Pacific Dawn
is a 60-foot sporfisher with a 19 foot beam and solid fiberglass hull. Specially designed for trips of 1 to 2 1/2 days, she is a very wide and stable fishing platform, with more fishing room up the side than most boats in her class. Recently refurbished, her features include the following:
Air conditionded bunk room, completely remodeld in January 2003, specifically designed for groups of 15 to 20 passengers, each with an individual bunk.
Galley completely refinished, with new flooring, windows, upholstery and stainless steel.
Repowered in 2000, she has two new low emissions 350 hp Cummins diesel engines, plus a new Onan generator.
Electronics completely updated, including color scanning sonar.
New custom bait tanks, desinged to hold an honest 120 scoops.
Large refrigerated fish hold. Your catch will be treated with the utmost care, chilled to just above freezing to assure that your fish are in the best possible condition when you arrive home. Filleting is available upon request.
Beer, Soft Drinks, Sundries and Fishing tackle not included. 50% deposit required to confirm reservation. Balance due on departure date. Deposits not refunded unless cancellation is made 90 days prior to departure date. We reserve the right to overbook by one reservation. Meals and Mexican Fishing Permit not included in price.
Upcoming Trips

To make your reservation please click on the green button next to the trip you would like to go on. Then follow the instructions to complete your reservation. Please Note: There is a service charge of 3.50% required for all reservations.

Key:

Passport Required


Meals Included in Price


Permits Included in Price

April, 2024

Pacific Dawn
2 Day Limited Load

Fri. 4-5-24

11:00 AM

Tue. 5-7-24

6:00 AM

17

$850

Fishing Offshore/Freelance. Targeting Tuna, Yellowtail and more! Price includes Mexican fishing license, meals, bait, and bunk. California fishing license would be additional. Passport is NOT required. Rental and tackle is additional. Each individual must bring their own bedding. Fuel surcharge may apply depending on price of diesel.

Pacific Dawn
1.5 Day Limited Load

Sun. 4-7-24

6:00 PM

Tue. 4-9-24

6:00 AM

19

$550

Fishing Offshore/Freelance. Targeting Tuna, Yellowtail and more! Price includes Mexican fishing license, meals, bait, and bunk. California fishing license would be additional. Passport is NOT required. Rental and tackle is additional. Each individual must bring their own bedding. Fuel surcharge may apply depending on price of diesel.

Pacific Dawn
2 Day Limited Load

Tue. 4-9-24

11:00 AM

Thu. 4-11-24

6:00 AM

17

$550

Fishing Offshore/Freelance. Targeting Tuna, Yellowtail and more! Price includes Mexican fishing license, meals, bait, and bunk. California fishing license would be additional. Passport is NOT required. Rental and tackle is additional. Each individual must bring their own bedding. Fuel surcharge may apply depending on price of diesel.

Pacific Dawn
1.5 Day Limited Load

Fri. 4-12-24

6:00 PM

Sun. 4-14-24

6:00 AM

19

$550

Fishing Offshore/Freelance. Targeting Tuna, Yellowtail and more! Price includes Mexican fishing license, meals, bait, and bunk. California fishing license would be additional. Passport is NOT required. Rental and tackle is additional. Each individual must bring their own bedding. Fuel surcharge may apply depending on price of diesel.

Pacific Dawn
2 Day Limited Load

Sun. 4-14-24

11:00 AM

Tue. 4-16-24

6:00 AM

17

$850

Fishing Offshore/Freelance. Targeting Tuna, Yellowtail and more! Price includes Mexican fishing license, meals, bait, and bunk. California fishing license would be additional. Passport is NOT required. Rental and tackle is additional. Each individual must bring their own bedding. Fuel surcharge may apply depending on price of diesel.

Pacific Dawn
1.5 Day Limited Load

Tue. 4-16-24

6:00 PM

Thu. 4-18-24

6:00 AM

19

$550

Fishing Offshore/Freelance. Targeting Tuna, Yellowtail and more! Price includes Mexican fishing license, meals, bait, and bunk. California fishing license would be additional. Passport is NOT required. Rental and tackle is additional. Each individual must bring their own bedding. Fuel surcharge may apply depending on price of diesel.

Pacific Dawn
2 Day Limited Load

Fri. 4-19-24

11:00 AM

Sun. 4-21-24

6:00 AM

17

$850

Fishing Offshore/Freelance. Targeting Tuna, Yellowtail and more! Price includes Mexican fishing license, meals, bait, and bunk. California fishing license would be additional. Passport is NOT required. Rental and tackle is additional. Each individual must bring their own bedding. Fuel surcharge may apply depending on price of diesel.

Pacific Dawn
2 Day Limited Load

Sun. 4-21-24

11:00 AM

Tue. 4-23-24

6:00 AM

17

$850

Fishing Offshore/Freelance. Targeting Tuna, Yellowtail and more! Price includes Mexican fishing license, meals, bait, and bunk. California fishing license would be additional. Passport is NOT required. Rental and tackle is additional. Each individual must bring their own bedding. Fuel surcharge may apply depending on price of diesel.

Pacific Dawn
2 Day Limited Load

Tue. 4-23-24

11:00 AM

Thu. 4-25-24

6:00 AM

17

$850

Fishing Offshore/Freelance. Targeting Tuna, Yellowtail and more! Price includes Mexican fishing license, meals, bait, and bunk. California fishing license would be additional. Passport is NOT required. Rental and tackle is additional. Each individual must bring their own bedding. Fuel surcharge may apply depending on price of diesel.

Pacific Dawn
2 Day Limited Load

Fri. 4-26-24

11:00 AM

Sun. 4-28-24

6:00 AM

17

$850

Fishing Offshore/Freelance. Targeting Tuna, Yellowtail and more! Price includes Mexican fishing license, meals, bait, and bunk. California fishing license would be additional. Passport is NOT required. Rental and tackle is additional. Each individual must bring their own bedding. Fuel surcharge may apply depending on price of diesel.

Pacific Dawn
2 Day Limited Load

Sun. 4-28-24

11:00 AM

Tue. 4-30-24

6:00 AM

17

$850

Fishing Offshore/Freelance. Targeting Tuna, Yellowtail and more! Price includes Mexican fishing license, meals, bait, and bunk. California fishing license would be additional. Passport is NOT required. Rental and tackle is additional. Each individual must bring their own bedding. Fuel surcharge may apply depending on price of diesel.

Pacific Dawn
2 Day Limited Load

Tue. 4-30-24

11:00 AM

Thu. 5-2-24

6:00 AM

17

$850

Fishing Offshore/Freelance. Targeting Tuna, Yellowtail and more! Price includes Mexican fishing license, meals, bait, and bunk. California fishing license would be additional. Passport is NOT required. Rental and tackle is additional. Each individual must bring their own bedding. Fuel surcharge may apply depending on price of diesel.

May, 2024

Pacific Dawn
2 Day Limited Load

Fri. 5-3-24

11:00 AM

Sun. 5-5-24

6:00 PM

17

$850

Fishing Offshore/Freelance. Targeting Tuna, Yellowtail and more! Price includes Mexican fishing license, meals, bait, and bunk. California fishing license would be additional. Passport is NOT required. Rental and tackle is additional. Each individual must bring their own bedding. Fuel surcharge may apply depending on price of diesel.

Pacific Dawn
2 Day Limited Load

Sun. 5-5-24

11:00 AM

Tue. 5-7-24

6:00 AM

17

$850

Fishing Offshore/Freelance. Targeting Tuna, Yellowtail and more! Price includes Mexican fishing license, meals, bait, and bunk. California fishing license would be additional. Passport is NOT required. Rental and tackle is additional. Each individual must bring their own bedding. Fuel surcharge may apply depending on price of diesel.

Pacific Dawn
1.5 Day Limited Load

Tue. 5-7-24

6:00 PM

Thu. 5-9-24

6:00 AM

19

$550

Fishing Offshore/Freelance. Targeting Tuna, Yellowtail and more! Price includes Mexican fishing license, meals, bait, and bunk. California fishing license would be additional. Passport is NOT required. Rental and tackle is additional. Each individual must bring their own bedding. Fuel surcharge may apply depending on price of diesel.

Pacific Dawn
2 Day Limited Load

Fri. 5-10-24

11:00 AM

Sun. 5-12-24

6:00 AM

17

$850

Fishing Offshore/Freelance. Targeting Tuna, Yellowtail and more! Price includes Mexican fishing license, meals, bait, and bunk. California fishing license would be additional. Passport is NOT required. Rental and tackle is additional. Each individual must bring their own bedding. Fuel surcharge may apply depending on price of diesel.

Pacific Dawn
2 Day Limited Load

Sun. 5-12-24

11:00 AM

Fri. 5-24-24

6:00 AM

17

$850

Fishing Offshore/Freelance. Targeting Tuna, Yellowtail and more! Price includes Mexican fishing license, meals, bait, and bunk. California fishing license would be additional. Passport is NOT required. Rental and tackle is additional. Each individual must bring their own bedding. Fuel surcharge may apply depending on price of diesel.

Pacific Dawn
1.5 Day Limited Load

Tue. 5-14-24

6:00 PM

Thu. 5-16-24

6:00 AM

19

$550

Fishing Offshore/Freelance. Targeting Tuna, Yellowtail and more! Price includes Mexican fishing license, meals, bait, and bunk. California fishing license would be additional. Passport is NOT required. Rental and tackle is additional. Each individual must bring their own bedding. Fuel surcharge may apply depending on price of diesel.

Pacific Dawn
2 Day Limited Load

Fri. 5-17-24

11:00 AM

Sun. 5-19-24

6:00 AM

17

$850

Fishing Offshore/Freelance. Targeting Tuna, Yellowtail and more! Price includes Mexican fishing license, meals, bait, and bunk. California fishing license would be additional. Passport is NOT required. Rental and tackle is additional. Each individual must bring their own bedding. Fuel surcharge may apply depending on price of diesel.

Page 1 of 2 Next>