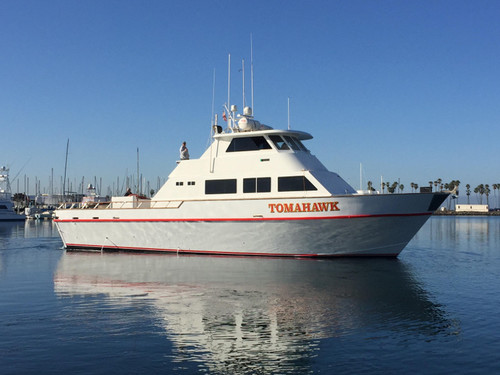 Tomahawk
Owner:
David Ibrahim
Captains:
David Ibrahim
Mailing Address:

Tomahawk Sportfishing
2838 Garrison Street
San Diego, CA 92106
Boat Website:
www.tomahawksportfishing.net
The Tomahawk is top in her class for overnight through three day fishing trips. Measuring in at 68' x24', she is powered by two Cummins QSM11 engines, and powered by a NorPro 32kW genset. She is designed to sleep up to 28 passengers on overnight and multi-day trips. On trips of 12 hours or less, the Tomahawk can accommodate up to 49 passengers. Fishing trips depart from Fisherman's Landing in San Diego.

Setting the Tomahawk apart from the competition is the layout of the boat. Ample space at the rail provides plenty of room to fish, and a large bait well makes sure you have plenty of bait to fish with. The latest in boating electronics help contribute to a positive fishing experience. Her fish finding sonar, fathometer, chart plotters and ships radar are all powered by Furuno.

Once the fish are on the boat, the Tomahawk's refrigerated saltwater fish hold will quickly chill your catch. Combined with proper fish handling techniques, the crew will ensure that your catch returns in top quality condition. Along with her top of the line fishing configuration, the Tomahawk is comfortable below deck. Boasting the largest bunks in the fleet, with air conditioning, hot showers, a spacious galley and satellite television.

You will find your adventure aboard the Tomahawk to be the finest and most enjoyable option for all your fishing needs.

Mexican fishing permits will be additional on all trips into Mexican waters unless otherwise noted. All vessels are licensed for on sale beer and wine, so we ask that you do not bring aboard any alcoholic beverages. You may bring other food and drink, but no glass containers or ice chests will be allowed on the boat. Also note that all prices are subject to change without notice. Should there be any substantial increase in the price of diesel fuel, we may find it necessary to impose a fuel surcharge.
Charter Rates
Trip Types
Season
Anglers
Mon - Thu
Fri - Sun
Overnight
May - November
28
$9,100
$9,275
1.5 Day
May - November
28
$12,100
$12,600
2 Day
May - November
25
$17,755
$18,000
2.5 Day
May - November
25
$21,250
$22,000
Full Day
Spring, Fall, Winter
49
$6,150
$6,350
Prices subject to change without notice. Call the landing for exact pricing.
Upcoming Trips

To make your reservation please click on the green button next to the trip you would like to go on. Then follow the instructions to complete your reservation. Please Note: There is a service charge of 3.50% required for all reservations.

Key:

Passport Required


Meals Included in Price


Permits Included in Price

June, 2023

Tomahawk
1.5 Day

Thu. 6-8-23

6:00 PM

Sat. 6-10-23

6:00 AM

29

$440

Will run with 10! Fishing Offshore/Freelance. Targeting Tuna, Yellowtail, Dorado, and more! Price includes Mexican fishing license, bait and bunk. Rental and tackle is additional. California Licenses would be additional if required. Passport is NOT required. Fuel service charge may apply depending on price of diesel.

Tomahawk
1.5 Day

Sat. 6-10-23

6:00 PM

Mon. 6-12-23

6:00 AM

29

$440

Fishing Offshore/Freelance. Targeting Tuna, Yellowtail, Dorado, and more! Price includes Mexican fishing license, bait and bunk. Rental and tackle is additional. California Licenses would be additional if required. Passport is NOT required. Fuel service charge may apply depending on price of diesel.

Tomahawk
1.5 Day

Wed. 6-14-23

6:00 PM

Fri. 6-16-23

6:00 AM

29

$440

Fishing Offshore/Freelance. Targeting Tuna, Yellowtail, Dorado, and more! Price includes Mexican fishing license, bait and bunk. Rental and tackle is additional. California Licenses would be additional if required. Passport is NOT required. Fuel service charge may apply depending on price of diesel.

Tomahawk
1.5 Day

Fri. 6-16-23

6:00 PM

Sun. 6-18-23

6:00 AM

29

$440

Fishing Offshore/Freelance. Targeting Tuna, Yellowtail, Dorado, and more! Price includes Mexican fishing license, bait and bunk. Rental and tackle is additional. California Licenses would be additional if required. Passport is NOT required. Fuel service charge may apply depending on price of diesel.

Tomahawk
1.5 Day

Sun. 6-18-23

6:00 PM

Tue. 6-20-23

6:00 AM

29

$440

Fishing Offshore/Freelance. Targeting Tuna, Yellowtail, Dorado, and more! Price includes Mexican fishing license, bait and bunk. Rental and tackle is additional. California Licenses would be additional if required. Passport is NOT required. Fuel service charge may apply depending on price of diesel.

Tomahawk
1.5 Day

Tue. 6-20-23

6:00 PM

Thu. 6-22-23

6:00 AM

29

$440

Fishing Offshore/Freelance. Targeting Tuna, Yellowtail, Dorado, and more! Price includes Mexican fishing license, bait and bunk. Rental and tackle is additional. California Licenses would be additional if required. Passport is NOT required. Fuel service charge may apply depending on price of diesel.

Tomahawk
2.5 Day Limited Load

Fri. 6-23-23

6:00 PM

Mon. 6-26-23

6:00 AM

24

$920

Fishing Offshore/Freelance. Targeting Tuna, Yellowtail, Dorado, and more! Price includes Meals, Mexican fishing license, bait and bunk. Rental and tackle is additional. California Licenses would be additional if required. Passport is NOT required. Fuel service charge may apply depending on price of diesel.

Tomahawk
1.5 Day

Mon. 6-26-23

6:00 PM

Wed. 6-28-23

6:00 AM

29

$440

Fishing Offshore/Freelance. Targeting Tuna, Yellowtail, Dorado, and more! Price includes Mexican fishing license, bait and bunk. Rental and tackle is additional. California Licenses would be additional if required. Passport is NOT required. Fuel service charge may apply depending on price of diesel.

Tomahawk
1.5 Day

Wed. 6-28-23

6:00 PM

Fri. 6-30-23

6:00 AM

29

$440

Fishing Offshore/Freelance. Targeting Tuna, Yellowtail, Dorado, and more! Price includes Mexican fishing license, bait and bunk. Rental and tackle is additional. California Licenses would be additional if required. Passport is NOT required. Fuel service charge may apply depending on price of diesel. Each individual must bring their own bedding.

Tomahawk
1.5 Day

Fri. 6-30-23

6:00 PM

Sun. 7-2-23

6:00 AM

29

$440

Fishing Offshore/Freelance. Targeting Tuna, Yellowtail, Dorado, and more! Price includes Mexican fishing license, bait and bunk. Rental and tackle is additional. California Licenses would be additional if required. Passport is NOT required. Fuel service charge may apply depending on price of diesel.

July, 2023

Tomahawk
2 Day Limited Load

Sun. 7-2-23

11:00 AM

Tue. 7-4-23

6:00 AM

28

$550

Fishing Offshore/Freelance. Targeting Tuna, Yellowtail, Dorado, and more! Price includes Mexican fishing license, bait and bunk. California fishing license would be additional if necessary. Passport is NOT required. Rental and tackle is additional. Fuel service charge may apply depending on price of diesel. Each individual must bring their own bedding.

Tomahawk
2.5 Day Limited Load

Tue. 7-4-23

6:00 PM

Fri. 7-7-23

6:00 AM

24

$920

Fishing Offshore/Freelance. Targeting Tuna, Yellowtail, Dorado, and more! Price includes Mexican fishing license, meals, bait and bunk. Rental and tackle is additional. California Licenses would be additional if required. Passport is NOT required. Fuel service charge may apply depending on price of diesel. Each individual must bring their own bedding.

Tomahawk
1.5 Day Limited Load

Fri. 7-7-23

6:00 PM

Sun. 7-9-23

6:00 AM

29

$440

Fishing Offshore/Freelance. Targeting Tuna, Yellowtail, Dorado, and more! Price includes Mexican fishing license, bait and bunk. California fishing license would be additional if necessary. Passport is NOT required. Rental and tackle is additional. Fuel service charge may apply depending on price of diesel. Each individual must bring their own bedding.

Tomahawk
2 Day Limited Load

Sun. 7-9-23

11:00 AM

Tue. 7-11-23

6:00 AM

28

$555

Fishing Offshore/Freelance. Targeting Tuna, Yellowtail, Dorado, and more! Price includes Mexican fishing license, bait and bunk. California fishing license would be additional if necessary. Passport is NOT required. Rental and tackle is additional. Fuel service charge may apply depending on price of diesel. Each individual must bring their own bedding.

Tomahawk
2 Day Limited Load

Tue. 7-11-23

11:00 AM

Thu. 7-13-23

6:00 AM

28

$555

Fishing Offshore/Freelance. Targeting Tuna, Yellowtail, Dorado, and more! Price includes Mexican fishing license, bait and bunk. California fishing license would be additional if necessary. Passport is NOT required. Rental and tackle is additional. Fuel service charge may apply depending on price of diesel. Each individual must bring their own bedding.

Tomahawk
2.5 Day Limited Load

Thu. 7-13-23

6:00 PM

Sun. 7-16-23

6:00 AM

24

$920

Fishing Offshore/Freelance. Targeting Tuna, Yellowtail, Dorado, and more! Price includes Mexican fishing license, meals, bait and bunk. Rental and tackle is additional. California Licenses would be additional if required. Passport is NOT required. Fuel service charge may apply depending on price of diesel. Each individual must bring their own bedding.

Tomahawk
1.5 Day Limited Load

Sun. 7-16-23

6:00 PM

Tue. 7-18-23

6:00 AM

29

$440

Fishing Offshore/Freelance. Targeting Tuna, Yellowtail, Dorado, and more! Price includes Mexican fishing license, bait and bunk. California fishing license would be additional if necessary. Passport is NOT required. Rental and tackle is additional. Fuel service charge may apply depending on price of diesel. Each individual must bring their own bedding.

Tomahawk
2 Day Limited Load

Tue. 7-18-23

11:00 AM

Thu. 7-20-23

6:00 AM

28

$555

Fishing Offshore/Freelance. Targeting Tuna, Yellowtail, Dorado, and more! Price includes Mexican fishing license, bait and bunk. California fishing license would be additional if necessary. Passport is NOT required. Rental and tackle is additional. Fuel service charge may apply depending on price of diesel. Each individual must bring their own bedding.

Tomahawk
2 Day Limited Load

Fri. 7-21-23

11:00 AM

Sun. 7-23-23

6:00 AM

28

$555

Fishing Offshore/Freelance. Targeting Tuna, Yellowtail, Dorado, and more! Price includes Mexican fishing license, bait and bunk. California fishing license would be additional if necessary. Passport is NOT required. Rental and tackle is additional. Fuel service charge may apply depending on price of diesel. Each individual must bring their own bedding.

Tomahawk
2 Day Limited Load

Sun. 7-23-23

11:00 AM

Tue. 7-25-23

6:00 AM

28

$555

Fishing Offshore/Freelance. Targeting Tuna, Yellowtail, Dorado, and more! Price includes Mexican fishing license, bait and bunk. California fishing license would be additional if necessary. Passport is NOT required. Rental and tackle is additional. Fuel service charge may apply depending on price of diesel. Each individual must bring their own bedding.

Page 1 of 3 Next>