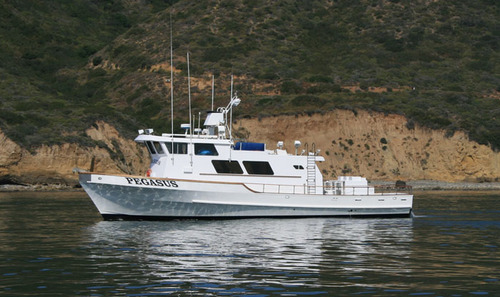 Pegasus
Owner:
Joe Chait & Jason Rombotis
Captains:
Joe Chait & Jason Rombotis
Mailing Address:

Pegasus Sportfishing
2838 Garrison Street
San Diego, CA 92106
Boat Website:
www.fishpegasus.com/
Captain Joe Chait & Jason Rombotis
Full Galley Service Available
65 ft. x 22 ft.
Sleeps 22 people
The Pegasus offers the finest in multi-day, limited party trips, from one to four days. This custom built all fiberglass sport-fisher only takes a maximum of 24 anglers, ensuring the most in quality comforts. Pegasus is the most modern 65' sport-fisher in San Diego, she is equipped with the latest in fish finding and navigation equipment, including a full searching color sonar, and color satellite plotting system. Once aboard the Pegasus you will find her spacious bunkroom is fully air-conditioned, with both stateroom and open berthing accommodations. Furnished with two large restroom's, and a separate shower and dressing room the water making system provides unlimited hot showers.
The restaurant style galley seats 18 passengers comfortably and is equipped with the finest char-broiler, grill, ovens and steam table, guaranteeing quality food preparation. Pegasus is also equipped with a massive 8 ton refrigerated fish hold, 160 scoop bait capacity and 5 large bait tanks. The fish are handled with extra care to warrant your catch is preserved to perfection's, Aside from being equipped with the finest in electronics, safety equipment, appliances and creature comforts, the Pegasus also provides a fully experienced crew.
Come and satisfy your fishing pleasures, on the most modern 65', all fiberglass sport-fisher in San Diego.
Beer, Soft Drinks, Sundries and Fishing tackle not included. 50% deposit required to confirm reservation. Balance due on departure date. Deposits not refunded unless cancellation is made 90 days prior to departure date. We reserve the right to overbook by one reservation. Meals and Mexican Fishing Permit not included in price.
Upcoming Trips

To make your reservation please click on the green button next to the trip you would like to go on. Then follow the instructions to complete your reservation.

Key:

Passport Required


Meals Included in Price


Permits Included in Price

November, 2018

Pegasus
1.5 Day

Sat. 11-17-18

7:00 PM

Mon. 11-19-18

6:00 AM

18

$465

BLUEFIN TUNA SPECIAL. Ticket price includes your meals, Mexican fishing permit and bunk. California Fishing License extra.
Charter Rates
Trip Types
Season
Anglers
Mon - Thu
Fri - Sun
Half Day
22
$1,350
$1,450
Full Day Local
$2,600
$2,750
Full Day Islands
$2,750
$2,900
Full Day Offshore
$3,150
$3,350
Overnight Mex Coast/Islands
Spring
22
$3,500
$3,750
Overnight
Summer
22
$4,800
$4,950
1.5 Day
Summer
22
$6,900
$7,275
2 Day
Summer
22
$9,200
$9,700
2.5 Day
Summer
22
$11,500
$12,125
3 day
Summer
22
$13,800
$14,550
Prices subject to change without notice. Call the landing for exact pricing.