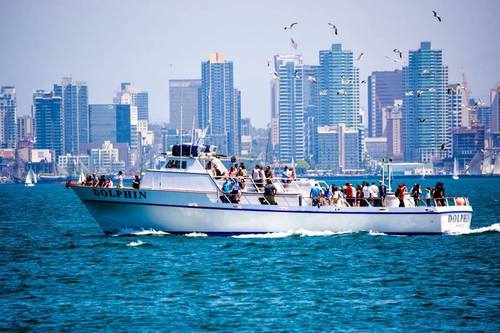 Dolphin
Owner:
Jason Coz
Captains:
Jason Coz
Mailing Address:

Dolphin Sportfishing
2838 Garrison Street
San Diego, CA 92106
Boat Website:
www.dolphinsportfishingsd.com/
The Dolphin is 85 ft. x 26 ft., has the most deck and galley space and is the smoothest riding Half Day boat in California. Many anglers have caught their first ocean fish while on a Half Day trip aboard the Dolphin. It is a great trip for anglers of all ages and experiences. The Dolphin's galley can seat up to 60 people. In the full service galley you can breakfast, burgers and many other common dinner style items. In addition, they have a full assortment of sodas and beer.

The Dolphin now features a newly installed R.S.W advanced refrigeration system to ensure your catch is kept in superior condition on 3/4 day trips and private charters.

All vessels are licensed for on sale beer and wine, so we ask that you do not bring aboard any alcoholic beverages. You may bring other food and drink, but no glass containers or ice chests will be allowed on the boat. Also note that all prices are subject to change without notice.
Charter Rates
Trip Types
Season
Anglers
Mon - Thu
Fri - Sun
Twilight
May - Oct
40
$2,000
$2,200
Half Day
May - Oct
40
$3,000
$3,300
Full Day Trip Local
May - Oct
40
$5,450
$6,000
Full Day Coranado Islands
May - Oct
40
$5,900
$6,500
Full Day Trip Offshore
May - Oct
40
$7,200
$7,700
Twilight
Nov- April
40
$1,500
$1,500
Half Day
Nov- April
40
$2,150
$2,550
Full Day Trip Local
Nov- April
40
$3,450
$3,650
Full Day Coranado Islands
Nov- April
40
$3,700
$4,100
Prices subject to change without notice. Call the landing for exact pricing.
Upcoming Trips

To make your reservation please click on the green button next to the trip you would like to go on. Then follow the instructions to complete your reservation. Please Note: There is a service charge of 3.50% required for all reservations.

Key:

Passport Required


Meals Included in Price


Permits Included in Price

December, 2023

Dolphin
AM Half Day

Sun. 12-3-23

6:30 AM

Sun. 12-3-23

12:30 PM

55

$70

Sunday Special Kids fish free, with paid Adult, one kid per adult. Please Make reservation by phone to receive this promotion. Half-Day local trip. Fishing DEEPER WATER(400-600 ft) for Rockfish and Reds. Bait is provided. 16 oz sinkers are recommended. Rental and California Fishing License is additional.

Dolphin
AM Half Day

Mon. 12-4-23

6:30 AM

Mon. 12-4-23

12:30 PM

55

$70

Half-Day local trip. Fishing DEEPER WATER(400-600 ft) for Rockfish and Reds. Bait is provided. 16 oz sinkers are recommended. Rental and California Fishing License is additional.

Dolphin
PM Half Day

Mon. 12-4-23

1:00 PM

Mon. 12-4-23

6:30 PM

55

$70

Half-Day local trip. Targeting Calico Bass, Sand Bass, Sheephead and more! Rental and California fishing license are additional. Price includes bait

Dolphin
AM Half Day

Tue. 12-5-23

6:30 AM

Tue. 12-5-23

12:30 PM

55

$70

Half-Day local trip. Fishing DEEPER WATER(400-600 ft) for Rockfish and Reds. Bait is provided. 16 oz sinkers are recommended. Rental and California Fishing License is additional.

Dolphin
PM Half Day

Tue. 12-5-23

1:00 PM

Tue. 12-5-23

6:30 PM

55

$70

Half-Day local trip. Targeting Calico Bass, Sand Bass, Sheephead and more! Rental and California fishing license are additional. Price includes bait

Dolphin
AM Half Day

Wed. 12-6-23

6:30 AM

Wed. 12-6-23

12:30 PM

55

$70

Definite Go! Half-Day local trip. Fishing DEEPER WATER(400-600 ft) for Rockfish and Reds. Bait is provided. 16 oz sinkers are recommended. Rental and California Fishing License is additional.

Dolphin
PM Half Day

Wed. 12-6-23

1:00 PM

Wed. 12-6-23

6:30 PM

55

$70

Half-Day local trip. Targeting Calico Bass, Sand Bass, Sheephead and more! Rental and California fishing license are additional. Price includes bait

Dolphin
AM Half Day

Thu. 12-7-23

6:30 AM

Thu. 12-7-23

12:30 PM

55

$70

Half-Day local trip. Fishing DEEPER WATER(400-600 ft) for Rockfish and Reds. Bait is provided. 16 oz sinkers are recommended. Rental and California Fishing License is additional.

Dolphin
PM Half Day

Thu. 12-7-23

1:00 PM

Thu. 12-7-23

6:30 PM

55

$70

Half-Day local trip. Targeting Calico Bass, Sand Bass, Sheephead and more! Rental and California fishing license are additional. Price includes bait

Dolphin
AM Half Day

Fri. 12-8-23

6:30 AM

Fri. 12-8-23

12:30 PM

55

$70

Half-Day local trip. Fishing DEEPER WATER(400-600 ft) for Rockfish and Reds. Bait is provided. 16 oz sinkers are recommended. Rental and California Fishing License is additional.

Dolphin
PM Half Day

Fri. 12-8-23

1:00 PM

Fri. 12-8-23

6:30 PM

55

$70

Half-Day local trip. Targeting Calico Bass, Sand Bass, Sheephead and more! Rental and California fishing license are additional. Price includes bait

Dolphin
AM Half Day

Sat. 12-9-23

6:30 AM

Sat. 12-9-23

12:30 PM

55

$70

Half-Day local trip. Fishing DEEPER WATER(400-600 ft) for Rockfish and Reds. Bait is provided. 16 oz sinkers are recommended. Rental and California Fishing License is additional.

Dolphin
PM Half Day

Sat. 12-9-23

1:00 PM

Sat. 12-9-23

6:30 PM

55

$70

Half-Day local trip. Targeting Calico Bass, Sand Bass, Sheephead and more! Rental and California fishing license are additional. Price includes bait

Dolphin
AM Half Day

Sun. 12-10-23

6:30 AM

Sun. 12-10-23

12:30 PM

55

$70

Sunday Special Kids fish free, with paid Adult, one kid per adult. Please Make reservation by phone to receive this promotion. Half-Day local trip. Fishing DEEPER WATER(400-600 ft) for Rockfish and Reds. Bait is provided. 16 oz sinkers are recommended. Rental and California Fishing License is additional.

Dolphin
AM Half Day

Mon. 12-11-23

6:30 AM

Mon. 12-11-23

12:30 PM

55

$70

Half-Day local trip. Fishing DEEPER WATER(400-600 ft) for Rockfish and Reds. Bait is provided. 16 oz sinkers are recommended. Rental and California Fishing License is additional.

Dolphin
PM Half Day

Mon. 12-11-23

1:00 PM

Mon. 12-11-23

6:30 PM

55

$70

Half-Day local trip. Targeting Calico Bass, Sand Bass, Sheephead and more! Rental and California fishing license are additional. Price includes bait

Dolphin
AM Half Day

Tue. 12-12-23

6:30 AM

Tue. 12-12-23

12:30 PM

55

$70

Half-Day local trip. Fishing DEEPER WATER(400-600 ft) for Rockfish and Reds. Bait is provided. 16 oz sinkers are recommended. Rental and California Fishing License is additional.

Dolphin
PM Half Day

Tue. 12-12-23

1:00 PM

Tue. 12-12-23

6:30 PM

55

$70

Half-Day local trip. Targeting Calico Bass, Sand Bass, Sheephead and more! Rental and California fishing license are additional. Price includes bait

Dolphin
AM Half Day

Wed. 12-13-23

6:30 AM

Wed. 12-13-23

12:30 PM

55

$70

Half-Day local trip. Fishing DEEPER WATER(400-600 ft) for Rockfish and Reds. Bait is provided. 16 oz sinkers are recommended. Rental and California Fishing License is additional.

Dolphin
PM Half Day

Wed. 12-13-23

1:00 PM

Wed. 12-13-23

6:30 PM

55

$70

Half-Day local trip. Targeting Calico Bass, Sand Bass, Sheephead and more! Rental and California fishing license are additional. Price includes bait

Page 1 of 4 Next>