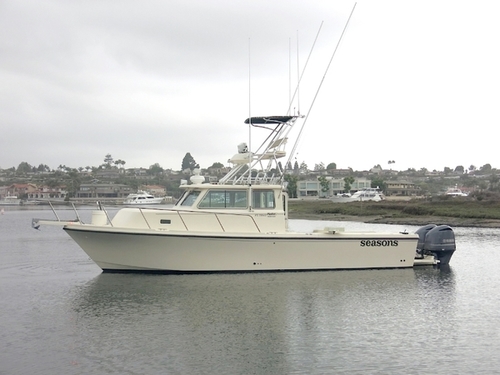 Seasons 34
Owner:
Jamie Thinnes
Captains:
Jamie Thinnes
Mailing Address:

Seasons 34 Sportfishing
2838 Garrison Street
San Diego, CA 92106
Boat Website:
www.seasonssportfishing.com/
SEASONS is a 2009 Parker 3420 XLD pilot house sportfishing vessel that was built for fishing. We did a re-power at the end of our 2016 season with a brand new set of Yamaha 350's. She has the state of the art electronic package from Furuno CH-270 side scan sonar to NAV Net dual color scope, with 3kw ad 2kw up and down transducers. GPS, & 24 mile radar. Massive 8 scoop bait system. Inside you will find a nice salon to sit and also lay your head down after a long day fishing. In the galley we have a microwave and coffee maker for those early mornings. Full stand up head. SEASONS is an ideal choice for full day, 1/2 day charters or open party trips to fish our beautiful rich local Southern California waters. Boat Specs: SEASONS 41' LOA) with a 11' 8" beam and powered with twin Yamaha 350's 4 stroke motors that can pretty much get you to the fishing grounds before anyone else. She has 400 gallons fuel capacity.
Upcoming Trips
To make your reservation please click on the green button next to the trip you would like to go on. Then follow the instructions to complete your reservation. Please Note: There is a service charge of 3.50% required for all reservations.
Key:
Passport Required

Meals Included in Price

Permits Included in Price
No trips found.