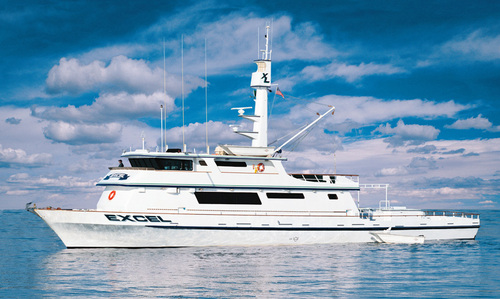 Excel
Owner:
Excel Long-Range Sportfishing LLC
Captains:
Justin Fleck & Mike Ramirez
Mailing Address:

Excel Sportfishing
2838 Garrison Street
San Diego, CA 92106
Boat Website:
www.excelsportfishing.com
The EXCEL is the LARGEST and most LUXURIOUS long-range sportfishing vessel in the world. Come aboard the Excel just once and you will instantly see she has the most rail space, deck space, lounge space, and tackle storage in the San Diego fleet. Complete with every passenger comfort imaginable and fantastic meals, the Excel is proud to be the ONLY long-range sportfishing vessel to offer
FREE WIFI
to all its passengers. The combination of the most modern electronics, largest bait capacity, most fishing space, and world class Captains and Crew ensures the finest fishing experience possible. If you're a discerning angler who demands the best from a multi-day fishing vacation into Mexican waters and beyond, the Excel is for you!

The Excel has many options available to fit most desired trip lengths. Whether you want to take a quick run off the coast of San Diego or down to locations such as Alijos Rocks, Puerto Vallarta, or Hurricane bank for as many as 20 days, the Excel can accommodate your schedule.

If you do not have your own tackle or do not want to travel with it no problem, the Excel offers the finest rental packages available. Featuring Accurate two speed reels spooled with Jerry Brown Line one spectra on Seeker Rods. Tackle is available from our onboard shop at internet prices! With names like; Jerry Brown Spectra, Owner Hooks, Seaguar Fluorocarbon, Salas, Raider, Eagle Claw, Berkley Big Game Monofilament, and Braid Products we carry all the necessary terminal tackle.

All upcoming trips aboard the Excel can be found here. For more information on a specific trip please call 619.223.7493 or email us. Many trips fill up quickly, so plan ahead and Book Online or call the office to reserve your spot today.


TRIP DESCRIPTIONS
3-6 Day Trips
Trips of 3 to 6 days duration aboard the Excel typically range south to offshore tuna grounds, possibly Guadalupe Island, or along the Baja Coast, visiting such islands as San Martin, Geronimo, Cedros and San Benitos.
During the late spring, expect the action to be best for Yellowtail, Yellowfin Tuna and a variety of other species around the islands, with the good chance of intercepting schools of Bluefin Tuna and Albacore. Summer into the fall is prime time for migratory runs of all tuna species. Yellowtail and Dorado are also found around floating kelp paddies.
7-10 Day Trips
Our 7 to 10-day trips offer the most variety in fishing action as we explore the southwestern Baja coastline from San Pablo to Magdalena Bay, often with a run out to Alijos Rocks. Â These trips are usually scheduled for early summer, and again throughout the fall months. Fishing along the inside "ridge" is outstanding for big Wahoo, Yellowtail, Dorado, Yellowfin Tuna and Marlin, with Pargo and giant Grouper being the reward for those dropping bait to the bottom. Alijos Rocks is a hot spot for Yellowfin Tuna in the 100-pound class, Wahoo, and world record size Yellowtail.
12+ Day Trips
12+ day trips aboard the Excel target the very finest Yellowfin Tuna and Wahoo fishing in the world, ranging over 1,000 miles south to such exotic locales as Hurricane Bank, Puerto Vallarta, Cleofus Bank, or even beyond the remote Clipperton atoll. From these prolific tropical waters, Capt. Bill Poole has returned with numerous record catches for his passengers, including the IGFA all-tackle world record Yellowfin Tuna which stood for many years and only recently beat.  In the 1970's and 1980's, 200 pounds was the challenge. Now, with modern technology, gear and less fish lost, Yellowfin can easily reach 300 pounds and even surpass the 400 pound mark.  Scheduled from winter to spring, these longest of the long-range trips offer the ultimate in big game fishing.
TERMS:
No credit card surcharge.
Cost does not include Mexican excursion permits/licenses.
If the cost of Marine Diesel fuel exceeds $3.00 per gallon, we may find it necessary to impose a fuel surcharge.
Passports are recommended for all trips and mandatory for others. Please contact the office for details.
The minimum deposit for any trip is $500.