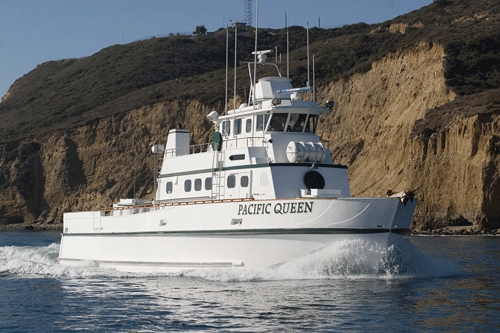 Pacific Queen
Owner:
Drew Card & Gavin Harbour
Captains:
Drew Card & Gavin Harbour
Mailing Address:

Pacific Queen Sportfishing
2838 Garrison Street
San Diego, CA 92106
Boat Website:
www.pacificqueensportfishing.com/
Captain Drew Card
Full Galley Service
85 ft. x 22 ft.
Sleeps 40 People
Refrigerated Fish-holds
The Pacific Queen has two separate fishholds. One fishhold is set at a temperature to perfectly chill your fish, so that the crew can prepare it as you wish. The other fish-hold is set at sub-zero temperatures that will allow you to transport your fish frozen.
Gentle Handling of Fish
The crew will be happy to cut you fish into fillets or steaks, or remove its head, gill & gut. The cost for fish cleaning varies with the size of the fish. Fish cleaning and crew gratuities are not included in the price of the ticket. You will notice that when the crew of the Pacific Queen place your fish into dockside fish carts, the fish is never thrown or handled roughly, thus preventing any bruising of the meat. From the time your fish comes over the rail to the time it reaches the dock, it is handled with utmost care.
Vessel Equipment and Operation
The Pacific Queen is a graceful, smooth riding sportfishing vessel 88 feet in overall length. She is an eminently respected member of San Diego's sportfishing fleet. She is fully equipped with marine radios, radar, sonar, loran, GPS, and other communication, navigation, fish-locating, and life-saving equipment. Cruises at 11-12 knots.

She is Licensed and Inspected by the U.S. Coast Guard
The vessel is 100% diesel/electric powered with Cummins marine diesel main engines (1100 total horsepower) and Capitol transmission gearboxes to ensure excellent dependability and speed. We have two septet systems to produce a total of more than 1,200 gallons of fresh water daily (one distillation system that works by the heat of the engine during transit, the other an osmosis system that works both while underway and at anchor.)
Vessel Accommodations
All sleeping areas are temperature controlled (heating and air-conditioning/air-circulation)

Walls and floors are beautifully carpeted to buffer sounds.

All bunks are made with fresh pillow cases and warm blankets. Our housekeeping staff takes pride in making sure the vessel is wonderfully clean and prepared for you.

Two showers with fresh hot and cold water.

Three bathrooms.

There is no smoking anywhere in the interior of the vessel.

No smoking in the galley, bathrooms, or sleeping areas.
Beer, Soft Drinks, Sundries and Fishing tackle not included. 50% deposit required to confirm reservation. Balance due on departure date. Deposits not refunded unless cancellation is made 90 days prior to departure date. We reserve the right to overbook by one reservation. Meals and Mexican Fishing Permit not included in price.
Upcoming Trips

To make your reservation please click on the green button next to the trip you would like to go on. Then follow the instructions to complete your reservation. Please Note: There is a service charge of 3.50% required for all reservations.

Key:

Passport Required


Meals Included in Price


Permits Included in Price

April, 2024

Pacific Queen
2 Day Limited Load

Wed. 4-3-24

10:00 AM

Fri. 4-5-24

6:00 AM

29

$800

Fishing Offshore/Freelance. Targeting Tuna, Yellowtail, Dorado, and more! Price includes Mexican Fishing license, Meals, bait, and bunk. A valid passport is NOT REQUIRED. California fishing license would be additional if needed. Rental and tackle would be additional. Fuel service charge may apply depending on price of diesel. Each individual must bring their own bedding.

Pacific Queen
2 Day Limited Load

Fri. 4-5-24

10:00 AM

Sun. 4-7-24

6:00 AM

29

$800

Fishing Offshore/Freelance. Targeting Tuna, Yellowtail, Dorado, and more! Price includes Mexican Fishing license, Meals, bait, and bunk. A valid passport is NOT REQUIRED. California fishing license would be additional if needed. Rental and tackle would be additional. Fuel service charge may apply depending on price of diesel. Each individual must bring their own bedding.

Pacific Queen
2 Day Limited Load

Sun. 4-7-24

10:00 AM

Tue. 4-9-24

6:00 AM

29

$800

Fishing Offshore/Freelance. Targeting Tuna, Yellowtail, Dorado, and more! Price includes Mexican Fishing license, Meals, bait, and bunk. A valid passport is NOT REQUIRED. California fishing license would be additional if needed. Rental and tackle would be additional. Fuel service charge may apply depending on price of diesel. Each individual must bring their own bedding.

Pacific Queen
3 Day Limited Load
Passport Required

Tue. 4-9-24

10:00 AM

Fri. 4-12-24

6:00 AM

24

$1,350

Fishing Offshore/Freelance. Targeting Tuna, Yellowtail, Dorado, and more! Price includes Mexican Fishing license, Meals, bait, and bunk. A valid passport is REQUIRED. California fishing license and FMM Visa would be additional if needed. Rental and tackle would be additional. Fuel service charge may apply depending on price of diesel. Each individual must bring their own bedding.

Pacific Queen
2 Day Limited Load

Fri. 4-12-24

10:00 AM

Sun. 4-14-24

6:00 AM

29

$800

Fishing Offshore/Freelance. Targeting Tuna, Yellowtail, Dorado, and more! Price includes Mexican Fishing license, Meals, bait, and bunk. A valid passport is NOT REQUIRED. California fishing license would be additional if needed. Rental and tackle would be additional. Fuel service charge may apply depending on price of diesel. Each individual must bring their own bedding.

Pacific Queen
1.5 Day Limited Load

Sun. 4-14-24

6:00 PM

Tue. 4-16-24

6:00 AM

33

$500

Fishing Offshore/Freelance. Targeting Tuna, Yellowtail, Dorado, and more! Price includes Mexican Fishing license, bait, and bunk. A valid passport is NOT REQUIRED. California fishing license would be additional if needed. Rental and tackle would be additional. Fuel service charge may apply depending on price of diesel. Each individual must bring their own bedding.

Pacific Queen
2 Day Limited Load

Tue. 4-16-24

10:00 AM

Thu. 4-18-24

6:00 AM

29

$800

Fishing Offshore/Freelance. Targeting Tuna, Yellowtail, Dorado, and more! Price includes Mexican Fishing license, Meals, bait, and bunk. A valid passport is NOT REQUIRED. California fishing license would be additional if needed. Rental and tackle would be additional. Fuel service charge may apply depending on price of diesel. Each individual must bring their own bedding.

Pacific Queen
2 Day Limited Load

Sun. 4-21-24

10:00 AM

Tue. 4-23-24

6:00 AM

29

$800

Fishing Offshore/Freelance. Targeting Tuna, Yellowtail, Dorado, and more! Price includes Mexican Fishing license, Meals, bait, and bunk. A valid passport is NOT REQUIRED. California fishing license would be additional if needed. Rental and tackle would be additional. Fuel service charge may apply depending on price of diesel. Each individual must bring their own bedding.

Pacific Queen
1.5 Day Limited Load

Tue. 4-23-24

6:00 PM

Thu. 4-25-24

6:00 AM

33

$500

Fishing Offshore/Freelance. Targeting Tuna, Yellowtail, Dorado, and more! Price includes Mexican Fishing license, bait, and bunk. A valid passport is NOT REQUIRED. California fishing license would be additional if needed. Rental and tackle would be additional. Fuel service charge may apply depending on price of diesel. Each individual must bring their own bedding.

Pacific Queen
1.5 Day Limited Load

Thu. 4-25-24

6:00 PM

Sat. 4-27-24

6:00 AM

33

$500

Fishing Offshore/Freelance. Targeting Tuna, Yellowtail, Dorado, and more! Price includes Mexican Fishing license, bait, and bunk. A valid passport is NOT REQUIRED. California fishing license would be additional if needed. Rental and tackle would be additional. Fuel service charge may apply depending on price of diesel. Each individual must bring their own bedding.

Pacific Queen
2 Day Limited Load

Sat. 4-27-24

10:00 AM

Mon. 4-29-24

6:00 AM

29

$800

Fishing Offshore/Freelance. Targeting Tuna, Yellowtail, Dorado, and more! Price includes Mexican Fishing license, Meals, bait, and bunk. A valid passport is NOT REQUIRED. California fishing license would be additional if needed. Rental and tackle would be additional. Fuel service charge may apply depending on price of diesel. Each individual must bring their own bedding.

Pacific Queen
2 Day Limited Load

Mon. 4-29-24

10:00 AM

Wed. 5-1-24

6:00 AM

29

$800

Fishing Offshore/Freelance. Targeting Tuna, Yellowtail, Dorado, and more! Price includes Mexican Fishing license, Meals, bait, and bunk. A valid passport is NOT REQUIRED. California fishing license would be additional if needed. Rental and tackle would be additional. Fuel service charge may apply depending on price of diesel. Each individual must bring their own bedding.

May, 2024

Pacific Queen
1.5 Day Limited Load

Wed. 5-1-24

6:00 PM

Fri. 5-3-24

6:00 AM

33

$500

Fishing Offshore/Freelance. Targeting Tuna, Yellowtail, Dorado, and more! Price includes Mexican Fishing license, bait, and bunk. A valid passport is NOT REQUIRED. California fishing license would be additional if needed. Rental and tackle would be additional. Fuel service charge may apply depending on price of diesel. Each individual must bring their own bedding.

Pacific Queen
2 Day Limited Load

Fri. 5-3-24

10:00 AM

Sun. 5-5-24

6:00 AM

30

$800

Fishing Offshore/Freelance. Targeting Tuna, Yellowtail, Dorado, and more! Price includes Mexican Fishing license, Meals, bait, and bunk. A valid passport is NOT REQUIRED. California fishing license would be additional if needed. Rental and tackle would be additional. Fuel service charge may apply depending on price of diesel. Each individual must bring their own bedding.

Pacific Queen
2 Day Limited Load

Sun. 5-5-24

10:00 AM

Tue. 5-7-24

6:00 AM

29

$800

Fishing Offshore/Freelance. Targeting Tuna, Yellowtail, Dorado, and more! Price includes Mexican Fishing license, Meals, bait, and bunk. A valid passport is NOT REQUIRED. California fishing license would be additional if needed. Rental and tackle would be additional. Fuel service charge may apply depending on price of diesel. Each individual must bring their own bedding.

Pacific Queen
2 Day Limited Load

Tue. 5-7-24

10:00 AM

Thu. 5-9-24

6:00 AM

29

$800

Fishing Offshore/Freelance. Targeting Tuna, Yellowtail, Dorado, and more! Price includes Mexican Fishing license, Meals, bait, and bunk. A valid passport is NOT REQUIRED. California fishing license would be additional if needed. Rental and tackle would be additional. Fuel service charge may apply depending on price of diesel. Each individual must bring their own bedding.

Pacific Queen
1.5 Day Limited Load

Thu. 5-9-24

6:00 PM

Sat. 5-11-24

6:00 AM

33

$500

Fishing Offshore/Freelance. Targeting Tuna, Yellowtail, Dorado, and more! Price includes Mexican Fishing license, bait, and bunk. A valid passport is NOT REQUIRED. California fishing license would be additional if needed. Rental and tackle would be additional. Fuel service charge may apply depending on price of diesel. Each individual must bring their own bedding.

Pacific Queen
2 Day Limited Load

Sat. 5-11-24

10:00 AM

Mon. 5-13-24

6:00 AM

30

$800

Fishing Offshore/Freelance. Targeting Tuna, Yellowtail, Dorado, and more! Price includes Mexican Fishing license, Meals, bait, and bunk. A valid passport is NOT REQUIRED. California fishing license would be additional if needed. Rental and tackle would be additional. Fuel service charge may apply depending on price of diesel. Each individual must bring their own bedding.

Pacific Queen
2 Day Limited Load

Sun. 5-19-24

10:00 AM

Tue. 5-21-24

6:00 AM

29

$800

Fishing Offshore/Freelance. Targeting Tuna, Yellowtail, Dorado, and more! Price includes Mexican Fishing license, Meals, bait, and bunk. A valid passport is NOT REQUIRED. California fishing license would be additional if needed. Rental and tackle would be additional. Fuel service charge may apply depending on price of diesel. Each individual must bring their own bedding.

Pacific Queen
1.5 Day Limited Load

Tue. 5-21-24

6:00 PM

Thu. 5-23-24

6:00 AM

33

$500

Fishing Offshore/Freelance. Targeting Tuna, Yellowtail, Dorado, and more! Price includes Mexican Fishing license, bait, and bunk. A valid passport is NOT REQUIRED. California fishing license would be additional if needed. Rental and tackle would be additional. Fuel service charge may apply depending on price of diesel. Each individual must bring their own bedding.

Page 1 of 2 Next>