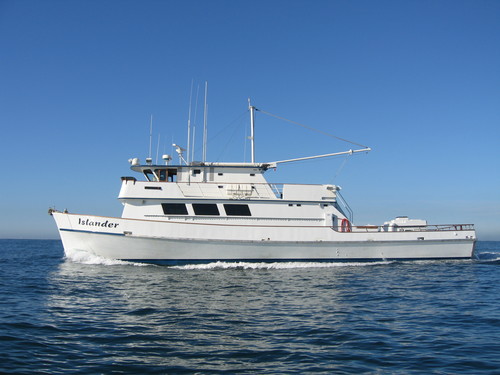 Islander
Owner:
John Coniff
Captains:
John Coniff
Mailing Address:

Islander Sportfishing
2838 Garrison Street
San Diego, CA 92106
Boat Website:
www.islandersportfishing.com
The Islander
Full Galley Service
85 ft. x 24 ft.
Sleeps 35 people
The 85 x 24 Islander is one of San Diego's finest fishing platforms . Built originally as the Red Rooster II, the Islander was designed with comfort, safety and fishability in mind. Building on this solid reputation, recent renovations have solidified Islander as the most versatile vessel servicing Southern California and Baja.
Whether it's Albacore, Bluefin or Yellowfin offshore or Yellowtail and Rockfish along the coast, Islander is perfectly equipped to produce results with a 300 scoop bait capacity and ten tons of refrigerated hold space. Additionally, we continue to lead the way with quality fish handling practices. An RSW fish hold and 5/8 rubber landing mat means every fish that comes aboard goes home in the best condition possible. A professionally handled, quality product at the end of the trip is something we stand behind every time.
Islander Charters knows that comfort at sea is a key component of any multi-day excursion. With that in mind, Islander features air-conditioned stateroom accommodations exclusively, offering privacy and convenience whether your trip is one day or five. Private cabins with fresh linens, sinks and ample storage are just the beginning of the Islander difference. Islander's spacious and modern galley provides the perfect respite from the fast-paced action of the deck as well as the ideal venue to showcase our progressive menu. Full meal service three times daily with homemade hors d'oevres twice a day plus a full service wet bar means you'll never be hungry or thirsty at the rail.
Islander's full crew of professional fishermen is another hallmark of her success. Islander Charter's is proud to welcome the same crew back year after year which means you'll see the same familiar faces on deck that you've come to know over the last six years. Each Islander crew member from the owner to the chef is a United States Coast Guard licensed Captain which means you're in capable, professional hands every time you join us. Quality customer service is the backbone of our business and we can say with confidence that the Islander crew is second to none.
For a more detailed look at the Islander please visit our website. In addition to a full compliment of multi-day fishing trips we also offer specialty trips including kayak mothership trips, Great White Shark Cage diving and long-range spearfishing. Call us any time at 619-224-4388 for more information!
Electronics
Wesmar 800 HD Side Scanning Sonar
Furuno Color Fathometer
16 and 72 mile radars
3 VHF radios
Radio Direction Finder
2 Single Side Band Radios
Weather FAX
Video plotter
Auto pilot
Computerized Navigation Software
GPS (3)
Satellite Telephone
Beer, Soft Drinks, Sundries and Fishing tackle not included. 50% deposit required to confirm reservation. Balance due on departure date. Deposits not refunded unless cancellation is made 90 days prior to departure date. We reserve the right to overbook by one reservation. 1.5 Day trips and longer include meals. Mexican Fishing Permit not included.
Charter Rates
Trip Types
Season
Anglers
Mon - Thu
Fri - Sun
1 Day
Aug-Sept
31
$9,300
$9,600
1.5 Day
Aug-Sept
31
$13,950
$14,440
2 Day
Aug-Sept
27
$18,600
$19,200
2.5 day
Aug-Sept
27
$23,250
$24,000
3 Day Trip
Aug-Sept
25
$27,900
$28,800
1 Day
June-July
31
$8,500
$9,000
1.5 Day
June-July
31
$12,750
$13,500
2 Day
June-July
27
$17,000
$18,000
2.5 day
June-July
27
$21,250
$22,500
3 day
June-July
25
$25,000
$27,000
Prices subject to change without notice. Call the landing for exact pricing.
Upcoming Trips

To make your reservation please click on the green button next to the trip you would like to go on. Then follow the instructions to complete your reservation. Please Note: There is a service charge of 3.50% required for all reservations.

Key:

Passport Required


Meals Included in Price


Permits Included in Price

September, 2022

Islander
3 Day Limited Load (no passports)

Thu. 9-29-22

11:00 AM

Sun. 10-2-22

6:00 AM

24

$1,200

Offshore/Freelance. Targeting Tuna, Yellowtail, Dorado, and more! Price includes Meals, bait and bunk. Rental and tackle is additional. California Licenses or Mexican Licenses would be additional if required. Passport Not required. Each individual must bring their own bedding.

October, 2022

Islander
Extended 1.5 Day Trip

Sun. 10-2-22

11:00 AM

Tue. 10-4-22

6:00 AM

28

$675

Offshore/Freelance. Targeting Tuna, Yellowtail, Dorado, and more! Price includes Meals, bait and bunk. Rental and tackle is additional. California Licenses or Mexican Licenses would be additional if required. Passport is NOT required. Each individual must bring their own bedding.

Islander
1.5 Day

Tue. 10-4-22

7:00 PM

Thu. 10-6-22

6:00 AM

28

$500

Offshore/Freelance. Targeting Tuna, Yellowtail, Dorado, and more! Price includes Meals, bait and bunk. Rental and tackle is additional. California Licenses or Mexican Licenses would be additional if required. Passport is NOT required. Each individual must bring their own bedding.

Islander
3 Day Limited Load (no passports)

Thu. 10-6-22

11:00 AM

Sun. 10-9-22

6:00 AM

24

$1,200

Offshore/Freelance. Targeting Tuna, Yellowtail, Dorado, and more! Price includes Meals, bait and bunk. Rental and tackle is additional. California Licenses or Mexican Licenses would be additional if required. Passport Not required. Each individual must bring their own bedding.

Islander
Extended 1.5 Day Trip

Sun. 10-9-22

11:00 AM

Tue. 10-11-22

6:00 AM

28

$675

Offshore/Freelance. Targeting Tuna, Yellowtail, Dorado, and more! Price includes Meals, bait and bunk. Rental and tackle is additional. California Licenses or Mexican Licenses would be additional if required. Passport is NOT required. Each individual must bring their own bedding.

Islander
1.5 Day

Tue. 10-11-22

7:00 PM

Thu. 10-13-22

6:00 AM

28

$500

Offshore/Freelance. Targeting Tuna, Yellowtail, Dorado, and more! Price includes Meals, bait and bunk. Rental and tackle is additional. California Licenses or Mexican Licenses would be additional if required. Passport is NOT required. Each individual must bring their own bedding.

Islander
3 Day Limited Load (no passports)

Thu. 10-13-22

11:00 AM

Sun. 10-16-22

6:00 AM

24

$1,200

Offshore/Freelance. Targeting Tuna, Yellowtail, Dorado, and more! Price includes Meals, bait and bunk. Rental and tackle is additional. California Licenses or Mexican Licenses would be additional if required. Passport is Not required. Each individual must bring their own bedding.

Islander
Extended 1.5 Day Trip

Sun. 10-16-22

11:00 AM

Tue. 10-18-22

6:00 AM

28

$675

Offshore/Freelance. Targeting Tuna, Yellowtail, Dorado, and more! Price includes Meals, bait and bunk. Rental and tackle is additional. California Licenses or Mexican Licenses would be additional if required. Passport is NOT required. Each individual must bring their own bedding.

Islander
1.5 Day

Tue. 10-18-22

7:00 PM

Thu. 10-20-22

6:00 AM

28

$500

Offshore/Freelance. Targeting Tuna, Yellowtail, Dorado, and more! Price includes Meals, bait and bunk. Rental and tackle is additional. California Licenses or Mexican Licenses would be additional if required. Passport is NOT required. Each individual must bring their own bedding.

Islander
3 Day Limited Load (no passports)

Thu. 10-20-22

11:00 AM

Sun. 10-23-22

6:00 AM

24

$1,200

Offshore/Freelance. Targeting Tuna, Yellowtail, Dorado, and more! Price includes Meals, bait and bunk. Rental and tackle is additional. California Licenses or Mexican Licenses would be additional if required. Passport not required. Each individual must bring their own bedding.

Islander
Extended 1.5 Day Trip

Sun. 10-23-22

11:00 AM

Tue. 10-25-22

6:00 AM

28

$675

Offshore/Freelance. Targeting Tuna, Yellowtail, Dorado, and more! Price includes Meals, bait and bunk. Rental and tackle is additional. California Licenses or Mexican Licenses would be additional if required. Passport is NOT required. Each individual must bring their own bedding.

Islander
1.5 Day

Tue. 10-25-22

7:00 PM

Thu. 10-27-22

6:00 AM

28

$500

Offshore/Freelance. Targeting Tuna, Yellowtail, Dorado, and more! Price includes Meals, bait and bunk. Rental and tackle is additional. California Licenses or Mexican Licenses would be additional if required. Passport is NOT required. Each individual must bring their own bedding.

Islander
3 Day Limited Load (no passports)

Thu. 10-27-22

11:00 AM

Sun. 10-30-22

6:00 AM

24

$1,200

Offshore/Freelance. Targeting Tuna, Yellowtail, Dorado, and more! Price includes Meals, bait and bunk. Rental and tackle is additional. California Licenses or Mexican Licenses would be additional if required. Passport not required. Each individual must bring their own bedding.

Islander
Extended 1.5 Day Trip

Mon. 10-31-22

11:00 AM

Wed. 11-2-22

6:00 AM

28

$675

Offshore/Freelance. Targeting Tuna, Yellowtail, Dorado, and more! Price includes Meals, bait and bunk. Rental and tackle is additional. California Licenses or Mexican Licenses would be additional if required. Passport is NOT required. Each individual must bring their own bedding.

November, 2022

Islander
1.5 Day

Tue. 11-1-22

7:00 PM

Thu. 11-3-22

6:00 AM

28

$500

Offshore/Freelance. Targeting Tuna, Yellowtail, Dorado, and more! Price includes Meals, bait and bunk. Rental and tackle is additional. California Licenses or Mexican Licenses would be additional if required. Passport is NOT required. Each individual must bring their own bedding.

Islander
3 Day Limited Load (no passports)

Thu. 11-3-22

11:00 AM

Sun. 11-6-22

6:00 AM

24

$1,200

Fishing Offshore/Freelance. Targeting Tuna, Yellowtail, Dorado, and more! Price includes Meals, bait and bunk. Rental and tackle is additional. California Licenses or Mexican Licenses would be additional if required. Each individual must bring their own bedding. PASSPORT IS NOT REQUIRED.

Islander
Extended 1.5 Day Trip

Sun. 11-6-22

11:00 AM

Tue. 11-8-22

6:00 AM

28

$675

Fishing Offshore/Freelance. Targeting Tuna, Yellowtail, Dorado, and more! Price includes Meals, bait and bunk. Rental and tackle is additional. California Licenses or Mexican Licenses would be additional if required. Passport is NOT required. Each individual must bring their own bedding.

Islander
1.5 Day Limited Load

Tue. 11-8-22

7:00 PM

Thu. 11-10-22

6:00 AM

28

$500

Fishing Offshore/Freelance. Targeting Tuna, Yellowtail, Dorado, and more! Price includes Meals, bait and bunk. Rental and tackle is additional. California Licenses or Mexican Licenses would be additional if required. Passport is NOT required. Each individual must bring their own bedding.

Islander
3 Day Limited Load (no passports)

Thu. 11-10-22

11:00 AM

Sun. 11-13-22

6:00 AM

24

$1,200

Fishing Offshore/Freelance. Targeting Tuna, Yellowtail, Dorado, and more! Price includes Meals, bait and bunk. Rental and tackle is additional. California Licenses or Mexican Licenses would be additional if required. Each individual must bring their own bedding. PASSPORT IS NOT REQUIRED.

Page 1 of 2 Next>