Fish Report for 10-20-2019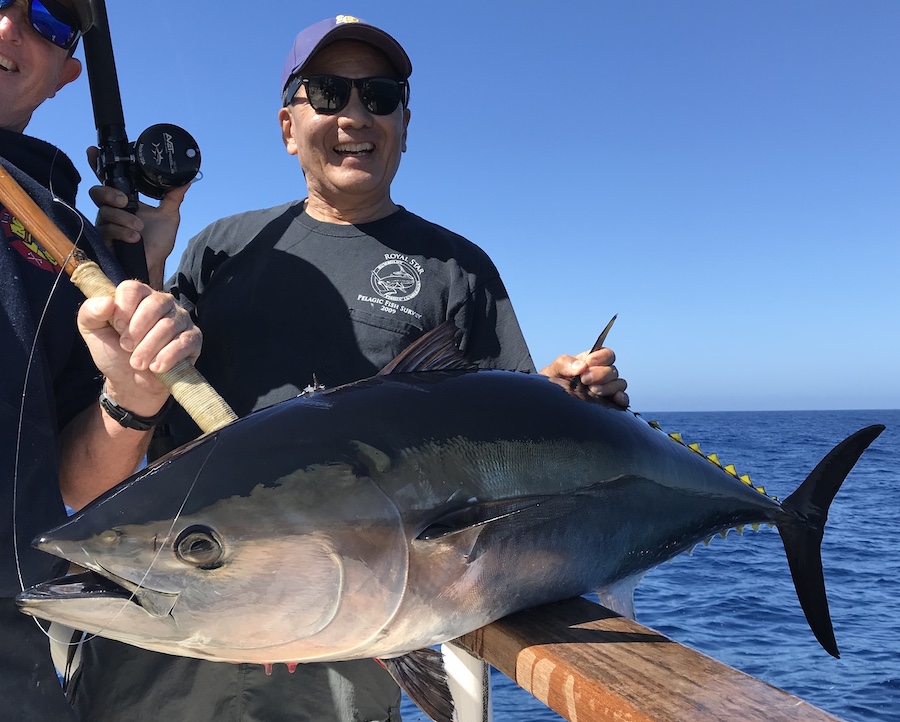 Bluefinnin'
10-20-2019
Tim Ekstrom

A fine start bluefinnin' getting in the game with a nice hit on 50 - 60 pound fish in the early afternoon followed by a classic sundowner that yielded a few over one hundred with a handful more in the 50 - 70 pound class. For certain there were a few more opportunities at the bigger models, some far bigger than the low one hundred's landed, that we did our best to convert on but came up woefully short. It's real mixed bag out here at present with bluefin from 20 -150 and better and yellowfin from 10 - 40 pounds all patrolling the same zones. The go to line size is 40 and 50 as the fish are a little touchy. Needless to say that represents a real challenge if/when one of those big dudes comes along.
All in good fun we rolled with the punches enjoying rapidly improving weather and an abundance of fish that can only be described as stunning. It continues. 2019 on the local grounds may very well end up setting the bar for many years to come. Showing no signs of change one gets the sense that Christmas/New Year's Bluefin tuna might replace the turkey.
If that is the case look for a few impromptu 1 1/2 - 3 day voyages thrown into the schedule on Royal Star. These fish are so beautiful, fat, and delicious that rest assured we won't be missing out on any opportunities. Stay tuned on that front.
Consistent with that line of thinking we settled in for the night opting to target these magnificent bluefin one more day before sliding down. The weather is forecast to go flat calm; the ideal set up for targeting bluefin and yellowfin offshore. Time will tell.
Photo today features Humboldt Fishin' Lumberjack Glenn Itano with the first bluefin of the voyage, a dandy 70 pounder.