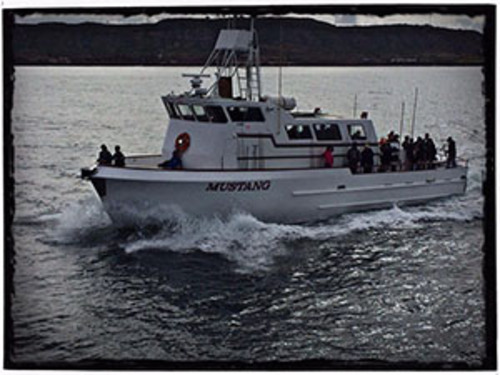 Mustang
Owner:
Steve Gawitt
Captains:
Steve Gawitt
Mailing Address:

Mustang Sportfishing
2838 Garrison Street
San Diego, CA 92106
Boat Website:
www.mustangsportfishing.com
Captain Steve Gawitt is bringing the Mustang to Fisherman's Landing. The Mustang has been completely remodeled and modernized for 2017! We provide superior service from knowledgeable, friendly staff and consider customer satisfaction our top priority! Our trips will be custom-fitted for each angler from novice to veteran. The boat is now equipped with the latest technology in fish-finding equipment including Furuno 270 Sonar, a spray brine fish hold and a dry blast to keep your catch perfect! It also has a newly renovated full-service galley with seating for up to 24 passengers. Our galley includes Satellite TV as well as NFL Sunday ticket, and fully customizable menus are available for multi-day charters. The air-conditioned bunk room offers sleeping accommodations for up to 42 passengers. Boat Details: 70'x20′ Full-Service Galley seating for 24 Satellite TV with two 42" Flat Panels Satellite Phone Air-conditioned Bunk Room sleeping up to 42 Fresh Water Maker (2) 4 Ton Refrigerated Fish Holds, featuring RSW & Blast Freeze. This assures your catch will reach the dock in 'just caught' condition 200 Scoop Bait Tank & Slammer Capacity Full-Color Scanning Sonar/Latest Electronics Outdoor speakers with auxilary connection Large bow platform for prime casting
Upcoming Trips
To make your reservation please click on the green button next to the trip you would like to go on. Then follow the instructions to complete your reservation. Please Note: There is a service charge of 3.50% required for all reservations.
Key:
Passport Required

Meals Included in Price

Permits Included in Price
No trips found.