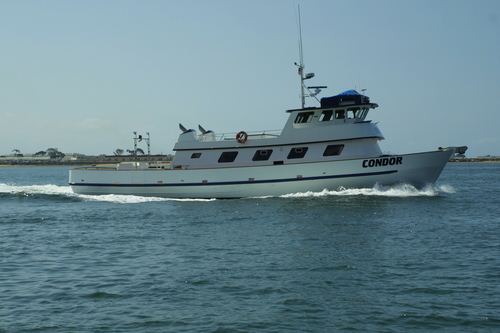 Condor
Owner:
Scott Meisel
Captains:
Scott Meisel and Trevor Fried
Mailing Address:

Condor Sportfishing
2838 Garrison Street
San Diego, CA 92106
Boat Website:
www.condorsportfishing.com
At 90' long and and 26' wide the Condor is low to the water and ready to fish! The all steel construction insures she is one of the safest and best riding boats in the fleet. The modern design allows us to be safe and comfortable when smaller boats are stuck closer to home or at the dock. Fully air conditioned bunk rooms and updated galley, that seats 26, make for a comfortable environment while at sea. A full size shower and two bathrooms are found fully protected from the elements (no walking on a wet deck). An upper deck with seating for 30 and benches around the outside of the cabin allow everyone a spot to relax and enjoy the views while waiting for the action to begin. The Big Bird is outfitted with the most modern fish finding and navigation equipment available. A newly updated bait system with 250+ scoops of bait and three RSW fish holds make the Condor a perfect choice for your next 1-5 day trip. The Condor operates as a zone 3 vessel (no 150 limits) and is inspected annually by the U.S. Coast Guard. You can be assured that the boat, safety equipment and crew training are up to date and in compliance with current regulations.
Upcoming Trips

To make your reservation please click on the green button next to the trip you would like to go on. Then follow the instructions to complete your reservation. Please Note: There is a service charge of 3.50% required for all reservations.

Key:

Passport Required


Meals Included in Price


Permits Included in Price

September, 2023

Condor
2.5 Day Limited Load

Fri. 9-29-23

7:00 PM

Mon. 10-2-23

6:00 AM

28

$920

Fishing Offshore/Freelance. Targeting Tuna, Yellowtail, Dorado, and more! Price includes Mexican fishing license, meals, bait, and bunk. California fishing license would be additional. Passport is NOT required. Rental and tackle is additional. Social distance rules apply. Facemask required and each individual must bring their own bedding. A fuel surcharge may apply.

October, 2023

Condor
1.5 Day Ultra Limited Load

Mon. 10-2-23

7:00 PM

Wed. 10-4-23

6:00 AM

28

$440

Fishing Offshore/Freelance. Targeting Tuna, Yellowtail, Dorado, and more! Price includes Mexican fishing license, bait and bunk. Rental and tackle is additional. California Licenses would be additional if required. Passport is NOT required. Fuel service charge may apply depending on price of diesel. Each individual must bring their own bedding.

Condor
1.5 Day Ultra Limited Load

Wed. 10-4-23

7:00 PM

Fri. 10-6-23

6:00 AM

28

$440

Fishing Offshore/Freelance. Targeting Tuna, Yellowtail, Dorado, and more! Price includes Mexican fishing license, bait and bunk. Rental and tackle is additional. California Licenses would be additional if required. Passport is NOT required. Fuel service charge may apply depending on price of diesel. Each individual must bring their own bedding.

Condor
3 Day Limited Load
Passport Required

Fri. 10-6-23

11:00 AM

Mon. 10-9-23

6:00 AM

24

$1,100

Labor Day Special! Fishing Offshore/Freelance. Targeting Tuna, Yellowtail, Dorado, and more! Price includes Mexican Fishing license, Meals, bait, and bunk. A valid passport is REQUIRED. California fishing license, FMM Visa, rental gear, and tackle is additional. Fuel service charge may apply depending on price of diesel.

Condor
2 Day Ultra Limited Load

Mon. 10-9-23

11:00 AM

Wed. 10-11-23

6:00 AM

25

$675

Fishing Offshore/Freelance. Targeting Tuna, Yellowtail, Dorado, and more! Price includes Mexican fishing license, meals, bait and bunk. Rental and tackle is additional. California Licenses would be additional if required. Passport is NOT required. Fuel service charge may apply depending on price of diesel. Each individual must bring their own bedding.

Condor
2 Day Ultra Limited Load

Wed. 10-11-23

11:00 AM

Fri. 10-13-23

6:00 AM

25

$675

Fishing Offshore/Freelance. Targeting Tuna, Yellowtail, Dorado, and more! Price includes Mexican fishing license, meals, bait and bunk. Rental and tackle is additional. California Licenses would be additional if required. Passport is NOT required. Fuel service charge may apply depending on price of diesel. Each individual must bring their own bedding.

Condor
1.5 Day Ultra Limited Load

Mon. 10-16-23

8:00 PM

Wed. 10-18-23

6:00 AM

28

$440

Fishing Offshore/Freelance. Targeting Tuna, Yellowtail, Dorado, and more! Price includes Mexican fishing license, meals, bait and bunk. Rental and tackle is additional. California Licenses would be additional if required. Passport is NOT required. Fuel service charge may apply depending on price of diesel. Each individual must bring their own bedding.

Condor
2 Day Ultra Limited Load

Wed. 10-18-23

11:00 AM

Fri. 10-20-23

6:00 AM

25

$675

Fishing Offshore/Freelance. Targeting Tuna, Yellowtail, Dorado, and more! Price includes Mexican fishing license, meals, bait and bunk. Rental and tackle is additional. California Licenses would be additional if required. Passport is NOT required. Fuel service charge may apply depending on price of diesel. Each individual must bring their own bedding.

Condor
2 Day Limited Load

Fri. 10-20-23

11:00 AM

Sun. 10-22-23

6:00 AM

28

$675

Fishing Offshore/Freelance. Targeting Tuna, Yellowtail, Dorado, and more! Price includes Mexican fishing license, meals, bait and bunk. Rental and tackle is additional. California Licenses would be additional if required. Passport is NOT required. Fuel service charge may apply depending on price of diesel. Each individual must bring their own bedding.

Condor
2 Day Ultra Limited Load

Mon. 10-23-23

11:00 AM

Wed. 10-25-23

6:00 AM

25

$675

Fishing Offshore/Freelance. Targeting Tuna, Yellowtail, Dorado, and more! Price includes Mexican fishing license, meals, bait and bunk. Rental and tackle is additional. California Licenses would be additional if required. Passport is NOT required. Fuel service charge may apply depending on price of diesel. Each individual must bring their own bedding.

Condor
2 Day Ultra Limited Load

Wed. 10-25-23

11:00 AM

Fri. 10-27-23

6:00 AM

25

$675

Fishing Offshore/Freelance. Targeting Tuna, Yellowtail, Dorado, and more! Price includes Mexican fishing license, meals, bait and bunk. Rental and tackle is additional. California Licenses would be additional if required. Passport is NOT required. Fuel service charge may apply depending on price of diesel. Each individual must bring their own bedding.

Condor
2 Day Ultra Limited Load

Mon. 10-30-23

11:00 AM

Wed. 11-1-23

6:00 AM

25

$675

Fishing Offshore/Freelance. Targeting Tuna, Yellowtail, Dorado, and more! Price includes Mexican fishing license, meals, bait and bunk. Rental and tackle is additional. California Licenses would be additional if required. Passport is NOT required. Fuel service charge may apply depending on price of diesel. Each individual must bring their own bedding.

November, 2023

Condor
2 Day Ultra Limited Load

Wed. 11-1-23

11:00 AM

Fri. 11-3-23

6:00 AM

24

$675

Fishing Offshore/Freelance. Targeting Tuna, Yellowtail, Dorado, and more! Price includes Mexican fishing license, meals, bait and bunk. Rental and tackle is additional. California Licenses would be additional if required. Passport is NOT required. Fuel service charge may apply depending on price of diesel. Each individual must bring their own bedding.

April, 2024

Condor
1.5 Day

Fri. 4-5-24

7:00 PM

Sun. 4-7-24

6:00 AM

28

$440

Offshore/Freelance. Targeting Tuna, Yellowtail, Dorado, and more! Price includes Mexican fishing license, bait and bunk. Rental and tackle is additional. California Licenses would be additional if required. Passport is NOT required. Fuel service charge may apply depending on price of diesel. Each individual must bring their own bedding.

Condor
1.5 Day

Mon. 4-8-24

7:00 PM

Wed. 4-10-24

6:00 AM

28

$440

Offshore/Freelance. Targeting Tuna, Yellowtail, Dorado, and more! Price includes Mexican fishing license, bait and bunk. Rental and tackle is additional. California Licenses would be additional if required. Passport is NOT required. Fuel service charge may apply depending on price of diesel. Each individual must bring their own bedding.

Condor
1.5 Day

Wed. 4-10-24

7:00 PM

Fri. 4-12-24

6:00 AM

28

$440

Offshore/Freelance. Targeting Tuna, Yellowtail, Dorado, and more! Price includes Mexican fishing license, bait and bunk. Rental and tackle is additional. California Licenses would be additional if required. Passport is NOT required. Fuel service charge may apply depending on price of diesel. Each individual must bring their own bedding.

Condor
2 Day

Fri. 4-12-24

11:00 AM

Sun. 4-14-24

6:00 AM

24

$675

Fishing Offshore/Freelance. Targeting Blue Tuna, Yellowtail, Dorado, and more! Price includes Meals, Mexican fishing license, bait and bunk. Rental and tackle is additional. California Licenses would be additional if required. Passport is NOT required. Fuel service charge may apply depending on price of diesel. Each individual must bring their own bedding.

Condor
1.5 Day

Mon. 4-15-24

7:00 PM

Wed. 4-17-24

6:00 AM

28

$440

Offshore/Freelance. Targeting Tuna, Yellowtail, Dorado, and more! Price includes Mexican fishing license, bait and bunk. Rental and tackle is additional. California Licenses would be additional if required. Passport is NOT required. Fuel service charge may apply depending on price of diesel. Each individual must bring their own bedding.

Condor
1.5 Day

Wed. 4-17-24

7:00 PM

Fri. 4-19-24

6:00 AM

28

$440

Offshore/Freelance. Targeting Tuna, Yellowtail, Dorado, and more! Price includes Mexican fishing license, bait and bunk. Rental and tackle is additional. California Licenses would be additional if required. Passport is NOT required. Fuel service charge may apply depending on price of diesel. Each individual must bring their own bedding.

Page 1 of 5 Next>