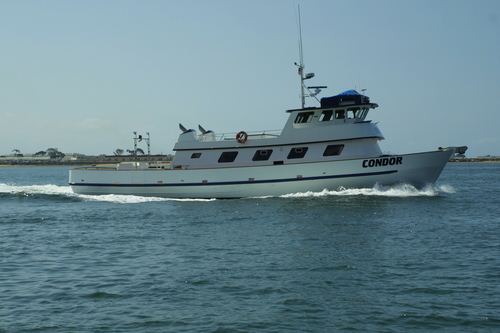 Condor
Owner:
Scott Meisel
Captains:
Scott Meisel & James Merrill
Mailing Address:

Condor Sportfishing
2838 Garrison Street
San Diego, CA 92106
Boat Website:
www.condorsportfishing.com
The Condor is a large, safe and modern sportfishing boat. At 90ft long and 25ft wide, she is low to the water and ready to fish. The ALL STEEL construction assures she is one of the best riding and safest vessels in the fleet. The Condor is able to fish safely and comfortably on days that some of the older and smaller wooden boats are stuck closer to home or at the dock. The modern design adds to these features. The bathrooms are located in a protected area in the rear of the cabin for your convenience. (No walking to the bow on a wet deck). The bulbous bow insures the best ride possible when the weather is up. A full service galley with seating for 28, an upper deck with room for 30+, and benches around the outside of the cabin makes sure that there is plenty of room for all to relax in comfort.
Service is top notch on the Condor. There is an experienced and friendly crew onboard at all time to assist you. The Condor has been fitted with separate fish holds to allow us to maintain your catch in a variety of ways. A below deck slammer has been installed to add an extra 150 scoops of bait for the longer trips.
The Condor operates as a zone 3 vessel (NO 150-MILE LIMITS), and is inspected annually by the U.S. Coast Guard. She is fully equipped with all the modern electronics and safety equipment to make your trip successful, comfortable, and safe. Add to this a large bait capacity, 11+ knots of available cruising speed and the most deck space of any boat her size in the fleet, and you can see that the Condor is truly an awesome sport fishing rig.
Beer, Soft Drinks, Sundries and Fishing tackle not included. 50% deposit required to confirm reservation. Balance due on departure date. Deposits not refunded unless cancellation is made 90 days prior to departure date. We reserve the right to overbook by one reservation. Meals and Mexican Fishing Permit not included in price.
Charter Rates
Trip Types
Season
Anglers
Mon - Thu
Fri - Sun
Bay Cruise (2 Hr Min)
80
$650
$650
Overnight
Summer
37
$7,500
$7,800
1.5 Day
Summer
37
$14,500
$15,000
2 Day Trip
Summer
32
$16,500
$17,000
2.5 Day
Summer
28
$18,500
$19,000
3 Day Trip
Summer
28
$20,000
$20,500
Prices subject to change without notice. Call the landing for exact pricing.
Upcoming Trips

To make your reservation please click on the green button next to the trip you would like to go on. Then follow the instructions to complete your reservation. Please Note: There is a service charge of 3.50% required for all reservations.

Key:

Passport Required


Meals Included in Price


Permits Included in Price

October, 2021

Condor
2.5 Day Limited Load

Fri. 10-29-21

6:00 PM

Mon. 11-1-21

6:00 AM

28

$850

DEFINITE GO!!!! Fishing Offshore/Freelance. Targeting Tuna, Yellowtail, Dorado, and more! Ideally this trip will focus on big Bluefin Tuna if available. Kites and flying fish are provided by the boat. Make sure to have flat-falls, SK jigs, etc. for night fishing. Price includes Mexican fishing license, meals, bait, and bunk. California fishing license would be additional. Passport is NOT required. Rental and tackle is additional. Social distance rules apply. Facemask required and each individual must bring their own bedding

November, 2021

Condor
1.5 Day Limited Load

Mon. 11-1-21

6:00 PM

Wed. 11-3-21

6:00 AM

28

$390

Fishing Offshore/Freelance. Targeting Tuna, Yellowtail, Dorado, and more! Price includes Mexican fishing license, bait and bunk. Rental and tackle is additional. California Licenses would be additional if required. Passport is NOT required. Social distance rules apply. Facemask required and each individual must bring their own bedding.

Condor
1.5 Day Limited Load

Wed. 11-3-21

6:00 PM

Fri. 11-5-21

6:00 AM

28

$390

Fishing Offshore/Freelance. Targeting Tuna, Yellowtail, Dorado, and more! Price includes Mexican fishing license, bait and bunk. Rental and tackle is additional. California Licenses would be additional if required. Passport is NOT required. Social distance rules apply. Facemask required and each individual must bring their own bedding.

Condor
2.5 Day Limited Load

Fri. 11-5-21

6:00 PM

Mon. 11-8-21

6:00 AM

28

$850

Fishing Offshore/Freelance. Targeting Tuna, Yellowtail, Dorado, and more! Price includes Mexican fishing license, meals, bait, and bunk. California fishing license would be additional. Passport is NOT required. Rental and tackle is additional. Social distance rules apply. Facemask required and each individual must bring their own bedding

Condor
1.5 Day Limited Load

Mon. 11-8-21

6:00 PM

Wed. 11-10-21

6:00 AM

28

$390

Fishing Offshore/Freelance. Targeting Tuna, Yellowtail, Dorado, and more! Price includes Mexican fishing license, bait and bunk. Rental and tackle is additional. California Licenses would be additional if required. Passport is NOT required. Social distance rules apply. Facemask required and each individual must bring their own bedding.

Condor
1.5 Day Limited Load

Wed. 11-10-21

6:00 PM

Fri. 11-12-21

6:00 AM

28

$390

Fishing Offshore/Freelance. Targeting Tuna, Yellowtail, Dorado, and more! Price includes Mexican fishing license, bait and bunk. Rental and tackle is additional. California Licenses would be additional if required. Passport is NOT required. Social distance rules apply. Facemask required and each individual must bring their own bedding.

Condor
2.5 Day Limited Load

Fri. 11-12-21

6:00 PM

Mon. 11-15-21

6:00 AM

28

$850

Fishing Offshore/Freelance. Targeting Tuna, Yellowtail, Dorado, and more! Price includes Mexican fishing license, meals, bait, and bunk. California fishing license would be additional. Passport is NOT required. Rental and tackle is additional. Social distance rules apply. Facemask required and each individual must bring their own bedding

Condor
1.5 Day Limited Load

Mon. 11-15-21

6:00 PM

Wed. 11-17-21

6:00 AM

28

$390

Fishing Offshore/Freelance. Targeting Tuna, Yellowtail, Dorado, and more! Price includes Mexican fishing license, bait and bunk. Rental and tackle is additional. California Licenses would be additional if required. Passport is NOT required. Social distance rules apply. Facemask required and each individual must bring their own bedding.

Condor
1.5 Day Limited Load

Wed. 11-17-21

6:00 PM

Fri. 11-19-21

6:00 AM

28

$390

Fishing Offshore/Freelance. Targeting Tuna, Yellowtail, Dorado, and more! Price includes Mexican fishing license, bait and bunk. Rental and tackle is additional. California Licenses would be additional if required. Passport is NOT required. Social distance rules apply. Facemask required and each individual must bring their own bedding.

Condor
2.5 Day Limited Load

Fri. 11-19-21

6:00 PM

Mon. 11-22-21

6:00 AM

28

$850

Fishing Offshore/Freelance. Targeting Tuna, Yellowtail, Dorado, and more! Price includes Mexican fishing license, meals, bait, and bunk. California fishing license would be additional. Passport is NOT required. Rental and tackle is additional. Social distance rules apply. Facemask required and each individual must bring their own bedding

Condor
2.5 Day Limited Load

Fri. 11-26-21

6:00 PM

Mon. 11-29-21

6:00 AM

28

$850

Fishing Offshore/Freelance. Targeting Tuna, Yellowtail, Dorado, and more! Price includes Mexican fishing license, meals, bait, and bunk. California fishing license would be additional. Passport is NOT required. Rental and tackle is additional. Social distance rules apply. Facemask required and each individual must bring their own bedding