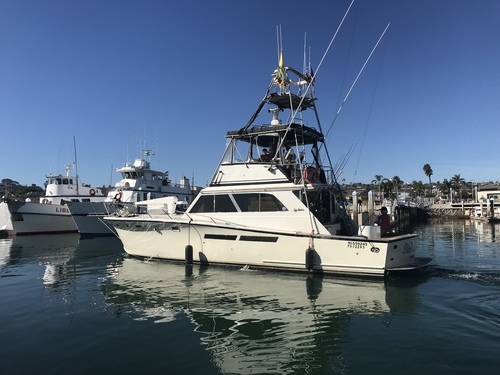 Black Diamond
Owner:
Chris Arechaederra
Captains:
Chris Arechaederra
Mailing Address:

Black Diamond Sportfishing
2838 Garrison Street
San Diego, CA 92106
Boat Website:
www.blackdiamondsportfishing.com
The Black Diamond is a 48 Egg Harbor Sportfisher yacht and is a fairly new addition to the San Diego Sportfishing fleet. With a beam of 15, she is a very comfortable ride and has a spacious cockpit for 6 passengers to fish all at the same time. The Diamond has most recently been remodeled in 2017 with a brand new fishing platform, bunk room, flooring, and seating inside as well. Also added was an additional bait tank, which increases our bait capacity to up to 8 scoops of live bait for a single trip. The boat is equipped with 2 full heads with showers, a hot galley, spacious salon, and individual bunks for passengers. She is also powered by 2 8V71 Detroit Diesel engines, and an 18 KW Onan Genset that runs 24 hours a day for your comfort and convenience.With our range, we service every trip type from a ½ day local trips out to the kelp beds, up to a long range 2.5 day trip out to the tuna grounds. We also service island trips, including San Clemente and Catalina Islands, along with special trips down to Punta Colonet in the Winter and Spring months. Each of our 5 crew members have been individually hand picked because of their extensive fishing experience, amazing customer service, and are each trained in providing the best experience possible for all of our passengers.
Upcoming Trips
To make your reservation please click on the green button next to the trip you would like to go on. Then follow the instructions to complete your reservation.
Key:
Passport Required

Meals Included in Price

Permits Included in Price
No trips found.
A 50% deposit is required to confirm your reservation for all charters. The remaining balance is due prior to your departure date. Deposits are not refunded unless cancellation is made at least 7 days prior to the date of departure. Included in each charter price are bait, tackle, meals, snacks, soft drinks, bottled water, and fish filleting. Fishing licenses, permits, Mexican FMM Visas, and alcohol are not included.