Fish Report for 7-10-2018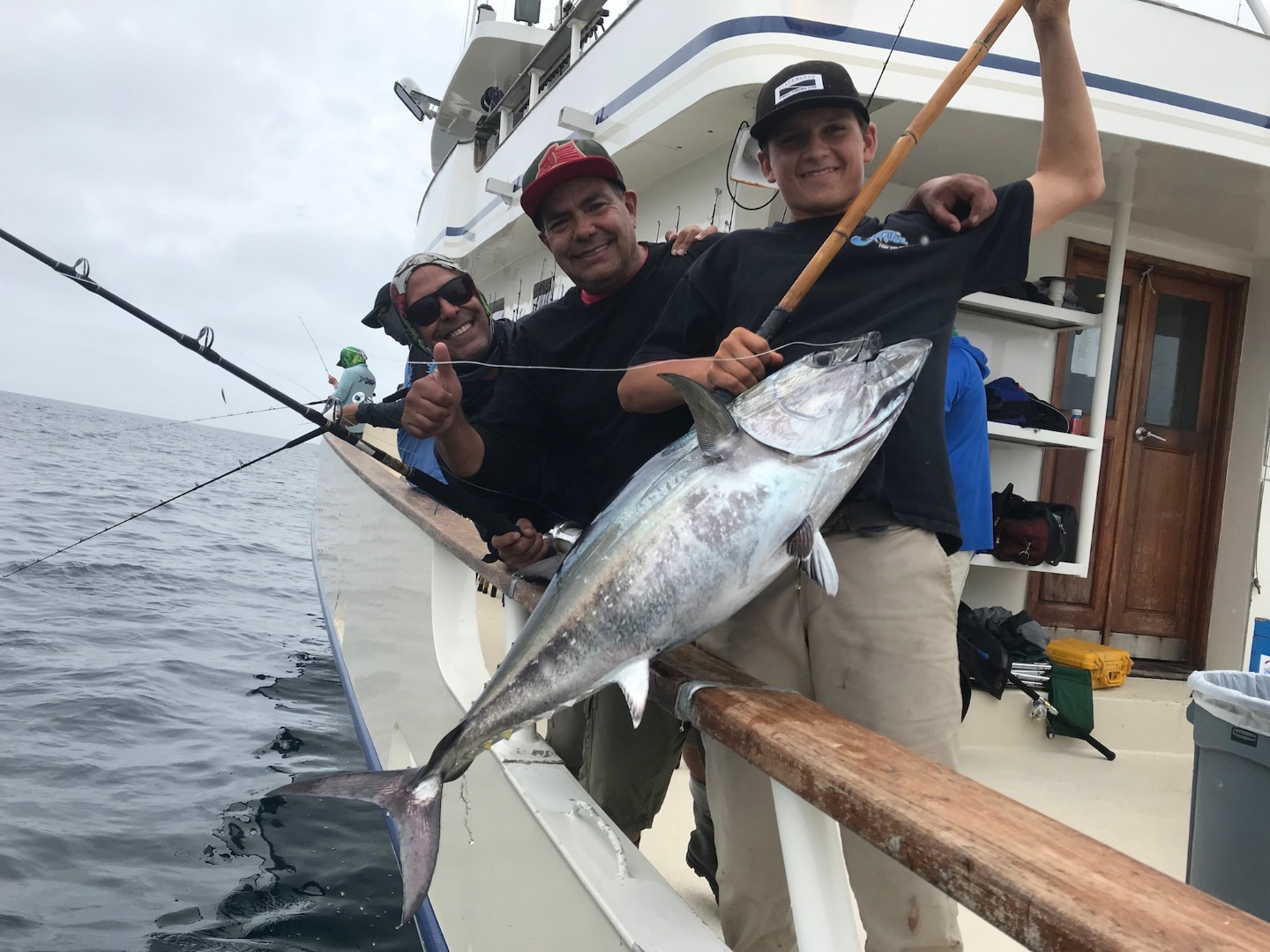 Foam Zone
7-10-2018
Tim Ekstrom

In continuing spectacular conditions we abandoned the exclusive pursuit of giants shortly after dawn in favor of something a little more fulfilling. Those big 'uns are great, and always evoke strong emotions, but they don't spread well enough to justify more than a day or two of effort depending on where we are in a voyage. As for today we were in need of action, and fish.
As for action our decision to head off in search of was a home run. After a quick, two hour jump hardly minute went by that was not occupied by the sights and sounds of fish. Huge foamers, or spots of school size bluefin tuna whipping the ocean surface into a raging froth, were up and visible two, three, five, or ten at any given time. Never wanting for a direction to run from mid morning to late afternoon we got our fishing in.
Catching maybe not so much. But, relative to the pattern of late, we actually pieced it together on a few stops when the fish stuck around a provided a handful or two of opportunities for those anglers using the lighter, 25# outfits with 2/0 hooks. The losses on this light gear were a little high but the school size 25 - 35# bluefin were not too big for the guys to handle using the right amount of finesse.
In the end this was exactly what we needed to round out our modest catch, and catching overall, during this voyage. Very pleased, again on a relative scale, we concluded the trip satisfied that we made the most of what we had to work with. As for fish sign on the local grounds I have to share that I have never seen more incredible sign of tuna and life in my over thirty five years of fishing in these zones. Incredible is an understatement. Literally miles and miles of bluefin and yellowfin tuna are present and settled in. While they are still maddeningly fickle rest assured that they won't stay that way. When the switch does finally turn on it is going to be material of legend. Mark my words.
Closing out this round Captain Brian "Gerbie" Sims is poised to take the helm on a quick, mini long range trip before we return to our regular schedule Friday. Our final photo from this voyage features first time Royal Star anglers Juan Carlos Perdomo and his brother Alejandro Perdomo rejoicing with my son Duke as Juan's thirty five pound class bluefin tuna is hoisted over the rail.