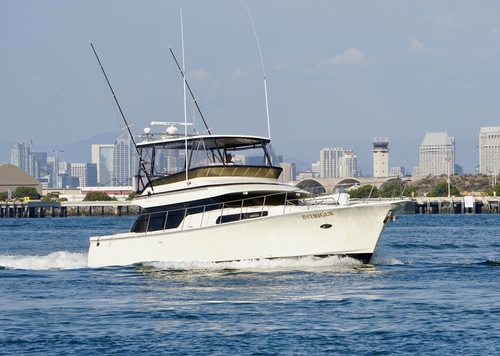 Intrigue
Owner:
Scott Meisel
Captains:
Scott Meisel
Mailing Address:

Intrigue Sportfishing
2838 Garrison Street
San Diego, CA 92106
Intrigue is a 50ft custom built yacht that offers her clients the ultimate in private charter luxury. Her wide beam and modern hull design provide a uniquely stable ride with plenty of room. A bright and spacious climate controlled interior offers a 360-degree view from inside the salon, and our modern full galley is set up to offer an exciting variety of meal packages. Our vessel boasts three distinct bathrooms (heads), and has multiple luxurious sleeping accommodations. A large cockpit with bait tanks, below deck refrigerated fish holds and a day head offer tons of room to get the job done. The spacious bridge with additional seating for your whole party offers breathtaking views. A fully railed deck provides room, comfort and safety to walk around the whole boat during your on the water experience. Modern electronics and professionally maintained engine room with state of the art safety equipment are all designed for the safest maritime excursions possible. Our vessel is commercially insured, run by a professional fully licensed crew, and is coast guard inspected. We offer the most modern high-performance rods, reels and terminal tackle in the industry. From beginners to veteran anglers, our many years of experience are here to help get you hooked up and reeling in that fish of a lifetime! All fishing trip prices include tackle, bait, meals, non-alcoholic beverages and crew. Permits, licenses and gratuities are extra. Whale watching prices include meals, non-alcoholic beverages and crew. Gratuities are extra.
Charter Rates
Trip Types
Season
Anglers
Price
Harbor/Dinner/Sunset Cruise
$250
Half-day
6
$1,200
Full-Day Local
6
$2,100
Full-Day Islands
6
$2,500
Full-Day Offshore
6
$2,800
Whale-Watching
Oct - May
6
$1,500
Whale-Watching
Winter
6
$800
Prices subject to change without notice. Call the landing for exact pricing.