Fish Report for 3-5-2018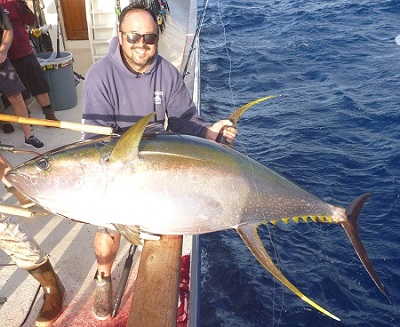 Challenge
3-5-2018
Tim Ekstrom

It seemed like we had finally gained some traction. Vastly improved fish sign combined with better conditions and excellent weather suggested this zone was on the upswing; just in time for the final day. And the day did begin on the right note. A fair morning hit on mid-grade yellowfin had us feeling pretty good about the day to come. But consistent with our fortunes this voyage success was fleeting.
Along with the fish that moved back into the shallows came the sharks. And they were hungry. No doubt less those bastards the day would have been logged as a significant success. Enough bites on quality fish were to be had. But those opportunities were too good to be true for some bad actors that pounced on the doomed tuna after full daylight in short order. We wrestled a few through but multiple relocations proved the challenge was greater than we could overcome.
"It's always something" – a go to saying in the face of the multitude of obstacles found in the grand arena. Though frustrating one cannot be surprised by the challenges. They come with the territory, and make the good times that much better.
I don't want to mischaracterize the setting either. Between the tuna and wahoo we did land, including one final hit offshore on yellowfin sans sharks, we made a day of it and had a good time. It just could have, would have been that much better less the sharks. That's fishin'.
Enjoy today's image of Curtis Lambert with his 226 stationed on the rail. Perfectly illustrating the tremendous girth of Curtis' trophy this photo was too good not to share. Look for the final voyage report and photo tomorrow.