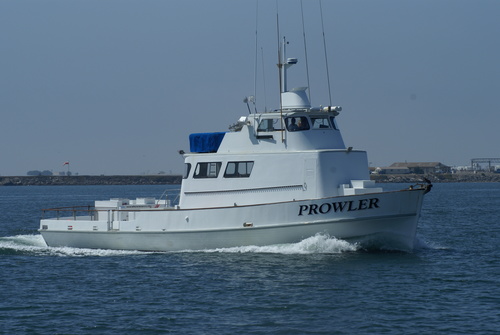 Prowler
Owner:
Buzz Brizendine
Captains:
Buzz Brizendine
Mailing Address:

Prowler Sportfishing
2838 Garrison Street
San Diego, CA 92106
Boat Website:
www.prowlersportfishing.com/
Captain Buzz Brizendine
Full Galley Service
65 ft. x 22 ft.
Sleeps 35
Built with only two things in mind - FISHING and COMFORT, we offer the finest in boat, crew and equipment to ensure that every trip aboard the Prowler is a memorable experience. The Prowler is outfitted with Twin 9.2L Electronic Cummins Diesel motors that will get you to the fishing grounds faster and quieter. We have also completely remodeled our galley with state-of-the-art equipment for your enjoyment!
65 ft. x 22 ft. and low to the water - perfect for the optimum fishing conditions

Twin 9.2L Electronic Cummins Diesels (Low emission, High efficiency engines) (New in 2012)

35kW John Deere/Northern Lights Generator

US Coast Guard Inspected (annually)

Equipped with all the latest navigational and fish-finding gear including:

-Furuno Scanning Sonar-Furuno Color Fathometer (Meter)-Sitex Global Positioning System (GPS)Refrigerated Fish Hold - fish chilled (not frozen) to 38 degrees, ensuring your catch will arrive at the docks in prime condition

Three large live bait tanks

Sleeps 34

Completely remodeled state-of-the-art galley
The Prowler was designed with two things in mind... Fishing and Comfort.
Beer, Soft Drinks, Sundries and Fishing tackle not included. 50% deposit required to confirm reservation. Balance due on departure date. Deposits not refunded unless cancellation is made 90 days prior to departure date. We reserve the right to overbook by one reservation. Also available for private charters. Please call Fisherman's Landing at (619) 221-8500 for details. Meals and Mexican Fishing Permit not included in price.
Upcoming Trips
To make your reservation please click on the green button next to the trip you would like to go on. Then follow the instructions to complete your reservation.
Key:
Passport Required

Meals Included in Price

Permits Included in Price
No trips found.