Royal Star Fish Report for 5-17-2017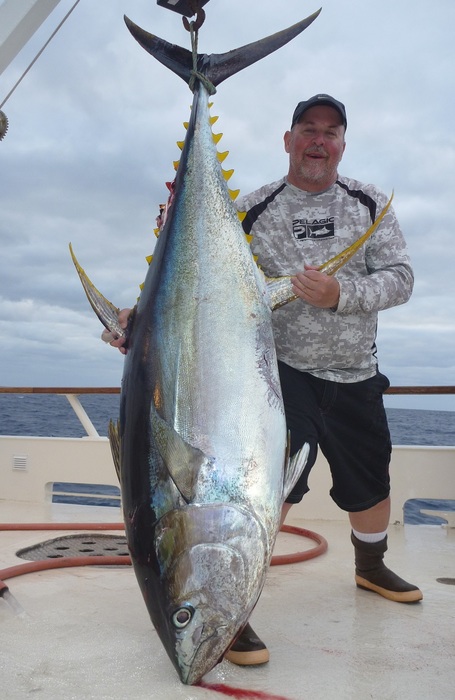 Glimmer of hope
5-17-2017
Tim Ekstrom

A few fish to show for our efforts today, and in general much better sign. Though the majority of fish that we located passed us without a second glance the number one component of fishing success – the fish being where we are, lends to feelings more positive about our current situation. In what is forecast to be superb weather tomorrow we forge ahead hoping that this thing is going to turn around; better said hoping that it will turn good while we are still here. Improve it will, that is inevitable; it's a question of when.

Photo today features another long time Royal Star veteran and friend Mike Shannon and his dearly paid for 227. Nigh two days of roasting and riding out a marathon kite rotation produced this beauty. Not a bad return on investment in the end.

On an admin note Capt. Brian "Gerbie" Sims, who is currently behind the office helm, let me know that there is still plenty of space available on the June 1 ½ day voyages. These all inclusuve voyages will feature the full compliment of first class Royal Star cuisine and professional service on deck. Reports from spotter pilots indicate a quantity of Bluefin Tuna within easy 1 ½ day range currently offshore that is on par with any of the best year's that they have ever seen. These voyages are ideally suited to take advantage of the offshore bluefin opportunities anywhere within a 150 mile range from San Diego. If one is new to this style of fishing now is the perfect time to head out and enjoy a first class introduction!