Fish Report for 4-10-2018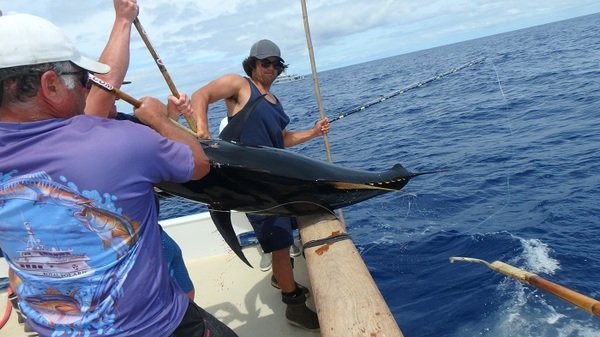 Royal Polaris Fishing Report
4-10-2018
Royal Polaris Crew

Hello RP Family,

Through the diligent efforts of the crew last night, we started the day with a tank full of flyers and compliant Yellowfin tuna. The morning started with the Chartermaster, Bill Nakaki catching the first 200 of the trip weighing 209lbs. Bill definitely deserved it as he is a great guy and goes out of his way to make sure we are all having fun.

Next up, Daniel "Big Fish" Artea scored his personal best at 205lbs. Yes, Daniel got bathed in pure Pacific unfiltered salt water delivered at high velocity for his efforts.

Fernando "The Filipino Fishing Fool" did it again and caught a 170lb tuna topping his previous personal best (by a lot).

Brandon "Does a Bear sleep in the" Woods caught a 145lber to earn his 2nd personal best and refreshing celebratory drenching.

Honorable mention goes to Cory "The Cook" Rapp for his 500lb bigeye thresher and Queen Mia Petty for her 250lb blue marlin. Both fish were released and both anglers received their well earned reward. As the ever entertaining Captain Roy Rose would put it, we had fish that were QUALITY with most being between 120 & 190lbs.

I forgot to mention yesterday a special hello to Susan Beck who decided to take up garage gymnastics before we left and broke her wrist preventing her from making it this year. We all wish you a speedy recovery and look forward to your laughter on next year's adventure. Also, special greetings to Gary Cotter (another regular) who chose to spend time with his lovely wife in New Zealand instead of a bunch of fisherman. Really? Whatever, Dude!

Here are the well earned shout outs, Bill would like to say hello to Evelyn and Sue Beck, Daniel sends a shout to Daniel Jr and Stephanie, Brandon to West Pak, Mia sends love to Nick, Zack, Hunter, Sam, and Fernando say's hi to his family and Doug, thanks for the good luck, it worked.

We had a lot of fun today and are just getting started! Wish us Good Ruck!